2011-06-03
Innovative UK technology is contributing to the development of a revolutionary digital stethoscope that could make it easier for GPs to spot the first signs of heart disease. With Engineering and Physical Sciences Research Council (EPSRC) funding, a Queen Mary, University of London (QMUL) team has developed a computer-based technology that synchronises the various sounds collected by the new stethoscope and which make up a human heartbeat. The sounds can then be analysed by an existing technique called ICA (independent component analysis), with data presented on a laptop ...
2011-06-03
A space flight by millions of microscopic worms could help us overcome the numerous threats posed to human health by space travel. The Caenorhabditis elegans (C. elegans) have also given experts an insight into how to block muscle degradation in the sick and elderly. The worms — from The University of Nottingham — were flown into space onboard the Space Shuttle Atlantis. They spent 11 days in orbit onboard the International Space Station more than 200 miles above the earth. Many of C. elegans' 20,000 genes perform the same functions as those in humans. Experts in human ...
2011-06-03
A new study from North Carolina State University shows that talking about safer sex is a complicated process for individuals in the transgender community. The finding may help efforts to promote safer sex practices in a community facing high HIV rates – and also sheds light on broader questions related to safer sex for everyone. "The main reason for this study is the fact that we're seeing evidence of devastatingly high HIV prevalence rates in the transgender community," says Dr. Kami Kosenko, an assistant professor of communication at NC State and lead author of the ...
2011-06-03
As the Mediterranean prepares for the summer season the yacht brokerage market is looking fairly healthy in contrast to this quarter in recent years. Supporting this resurgence are the annual boat shows that are beginning to see increased interest and enquiries through their continued efforts. Although all areas of the business are showing equal improvements this cannot be said to be spread across Fraser Yachts' entire network worldwide however with some regions recovering quicker than others it would seem. Most recently interest appears to be concentrated in the ...
2011-06-03
A recent study has shown that cognitive impairment is evident early on in preschool children with epilepsy, consistent with results of similar studies in older children. Age of onset of first seizure is a significant predictor of cognitive impairment according to this study—the first to evaluate cognitive impairment in children age three to six. The report is available in Epilepsia, a journal published by Wiley-Blackwell on behalf of the International League Against Epilepsy (ILAE). Epilepsy is characterized by recurrent seizures that range from mild staring spells to ...
2011-06-03
INDIANAPOLIS – When the demands of work and family conflict, is the job blamed, is the family role blamed or is blame placed on both? And what are the consequences? A new study by Elizabeth M. Poposki, Ph.D., assistant professor of psychology in the School of Science at Indiana University-Purdue University Indianapolis, is the first to explore day-to-day experiences in attributing this type of blame. The work examines individual incidents of work-family conflict and tracks how blame for this conflict is attributed. Only three percent of those surveyed blamed both work ...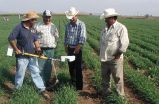 2011-06-03
New technologies can improve agricultural sustainability in developing countries, but only with the engagement of local farmers and the social and economic networks they depend on, say Stanford University researchers. Their findings are published in the May 23 online edition of the Proceedings of the National Academy of Sciences (PNAS). "Most people tend to think that technology information flows to farmers through a direct pipeline from scientists, but that isn't true," said lead author Ellen McCullough, a former research fellow at Stanford's Program on Food Security ...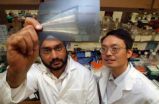 2011-06-03
AUGUSTA, Ga. – Scientists may have a way to make the powerful cancer drug cisplatin less toxic to the kidneys and more effective against some cancers. The chemotherapeutic agent used in combination with other drugs for a variety of cancers, results in kidney damage or failure in about 30 percent of users, although the mechanism has been unclear. The most physicians can do today to protect the kidneys is advise patients to drink more water. The relatively simple, highly reactive compound tends to accumulate in the kidneys, said Dr. Navjotsingh Pabla, postdoctoral fellow ...
2011-06-03
Brain cancer therapy may be more effective if the expression of an iron-storing protein is decreased to enhance the action of therapeutic drugs on brain cancer cells, according to Penn State College of Medicine researchers. Malignant glioblastoma multiforme is a deadly brain tumor for which no long-term effective cure exists. Because drugs in the blood do not pass from the blood vessels to the brain, effective amounts of chemotherapy drugs do not reach the tumor. Increasing dosages damage normal brain tissue and cause significant neurological damage. These dosages also ...
2011-06-03
This release is available in French and Spanish. A gesture as simple as allowing children to freely choose the vegetables they want to eat helps to increase the consumption of these foods in children, as University of Granada has found. Moreover, his work suggests that the bitter taste of calcium, present in vegetables such as spinach, collard greens, cabbage, onions, chard or broccoli, can be a factor negatively influencing children's consumption of vegetables. To carry out this experimental study, the authors analyzed the main factors determining vegetable consumption ...
2011-06-03
Humans have been building reservoirs and dams for thousands of years. Over the past few decades, their construction has spiked as our need to harness water – critical in flood control, irrigation, recreation, navigation and the creation of hydroelectric power – has grown. And while dams and reservoirs have important benefits, they can also be disruptive and costly to both humans and the environment. A close assessment of critical environmental and social tradeoffs associated with dams and reservoirs within the global river network has been impossible because the data ...
2011-06-03
WASHINGTON, DC -- June 2, 2011 -- A distinctly new type of methicillin resistant Staphylococcus aureus (MRSA) that is not detected by traditional genetic screening methods has been discovered in patients in Irish hospitals according to research to be published in the journal Antimicrobial Agents and Chemotherapy. These findings provide significant insights into how new MRSA strains emerge and highlight the potential for the transmission of infectious agents from animals to humans. MRSA is a significant cause of hospital- and community-acquired infection worldwide. MRSA ...
2011-06-03
Wagner & Wagner, Attorneys at Law, is doing more to help its community by making a commitment to improve its environmental profile. By joining the B2B Green Alliance, Wagner & Wagner hopes to promote awareness of eco-friendly business practices for lawyers. The B2B Green Alliance is part of Page 1 Green Solutions, an environmental commitment program sponsored by web marketing firm Page 1 Solutions. Page 1 Solutions strives to reduce its environmental impact not only by following eco-conscious practices in office but also by encouraging its clients to pursue ...
2011-06-03
This release is available in Spanish. The same precision farming techniques that work with crops can work with manure management on cattle feedlots, according to U.S. Department of Agriculture (USDA) scientists. Agricultural engineers Roger Eigenberg and Bryan Woodbury and their colleagues with USDA's Agricultural Research Service (ARS) in Clay Center, Neb., map the distribution of manure on the surface of feedlots and the flow of liquid manure in rain runoff. This research could lead to both precision harvesting of manure and also precision application of manure ...
2011-06-03
EVANSTON, Ill. --- Do those lightening fast disclaimers at the end of radio and television advertisements scare you away or simply seem like white noise required by regulatory agencies? According to Northwestern University and Wake Forest University research now online in the Journal of Consumer Research, fast disclaimers can give consumers the impression that an advertiser is trying to conceal information. However, trusted brands (versus trust-unknown or not-trusted brands) are immune to the adverse effects of fast disclaimers. "Speak slowly or carry a trusted brand," ...
2011-06-03
It is not certain where John Thompson was one fateful night in December 1984, but one thing is clear: He was not robbing three children in Orleans Parish, Louisiana. Thompson's innocence did not prevent the District Attorney's Office in Orleans Parish from building a case against him for the robbery, or from failing to turn over blood evidence to the defense--a failure that would taint his ability to accurately defend himself against charges of robbery and murder. The District Attorney's Office, headed by Harry Connick, Sr., tried and ultimately convicted Thompson of ...
2011-06-03
WORCESTER, Mass. – A study of more than 100 popular websites used by tens of millions of people has found that three quarters directly leak either private information or users' unique identifiers to third-party tracking sites. The study, co-authored by Craig Wills, professor of computer science at Worcester Polytechnic Institute (WPI), also demonstrated how the leakage of private information by many sites, including email addresses, physical addresses, and even the configuration of a user's web browser—so-called browser fingerprints—could permit tracking sites to link many ...
2011-06-03
Hip strengthening exercises performed by female runners not only significantly reduced patellofemoral pain -- a common knee pain experienced by runners -- but they also improved the runners' gaits, according to Indiana University motion analysis expert Tracy Dierks. "The results indicate that the strengthening intervention was successful in reducing pain, which corresponded to improved mechanics," said Dierks, associate professor of physical therapy in the School of Health and Rehabilitation Sciences at Indiana University-Purdue University Indianapolis. "The leg was ...
2011-06-03
BOSTON – Researchers from Harvard Medical School and MIT have developed a new approach for identifying the "self" proteins targeted in autoimmune diseases such as multiple sclerosis, diabetes and rheumatoid arthritis. In a paper published in Nature Biotechnology, H. Benjamin Larman and colleagues showed that errant immune responses which mistakenly target the body's own proteins rather than foreign invaders can now be examined in molecular detail. Further research could lead to new insights into the exact causes of these debilitating autoimmune disorders. The results ...
2011-06-03
From a distance, Callie (not her real name) appears to be a normal if quiet 5-year-old girl. But when faced with a toy that blows large soap bubbles—an activity that makes the vast majority of kindergarteners squeal and leap with delight—she is uninterested in popping the bubbles or taking a turn with the gun herself. When offered dolls or other toys, she is equally unmoved. When groups of children congregate to play, Callie does not join them. Even at home, she is quiet and withdrawn. While Callie's mother explains this lack of interest in play as simple "shyness," researchers ...
2011-06-03
When we've got a problem to solve, we don't just use our brains but the rest of our bodies, too. The connection, as neurologists know, is not uni-directional. Now there's evidence from cognitive psychology of the same fact. "Being able to use your body in problem solving alters the way you solve the problems," says University of Wisconsin psychology professor Martha Alibali. "Body movements are one of the resources we bring to cognitive processes." These conclusions, of a new study by Alibali and colleagues—Robert C. Spencer, also at the University of Wisconsin, and Lucy ...
2011-06-03
The American Academy of Pediatrics recently released new recommendations for infants riding in child safety seats. The group announced that infants should ride in rear-facing car seats for as long as possible. Previously, children could ride in forward-facing seats after their first birthday. The group relied on a University of Virginia study indicating that small children are 75 percent less likely to die or suffer severe injuries in a car crash if they are facing the rear of the vehicle. Dr. Dennis R. Durbin, scientific co-director of the Center for Injury Research ...
2011-06-03
GAINESVILLE, Fla. — Mathematical models analyzing how a cholera outbreak spread in Zimbabwe are providing new insights into the most effective vaccination strategies for preventing future cholera epidemics, according to University of Florida researchers. The mathematical models employed to analyze a large cholera outbreak in Zimbabwe in 2008-2009 suggest that mass vaccinations deployed strategically could prevent future cholera epidemics in that country and others. The researchers' findings, published online in late April in the Proceedings of the National Academy of ...
2011-06-03
WASHINGTON, DC, June 2, 2011 — A common reading of the recent subprime mortgage crisis pins the blame on bankers and loan brokers who extended mortgages to those who could not afford them, thereby inflating a housing bubble that was destined to burst. While technically correct, that reading ignores the "politics of creditworthiness" that undergirded the rise of subprime mortgages, as explained in a new article in the June issue of the American Sociological Review by Simone Polillo, an assistant professor of sociology in the University of Virginia's College of Arts & ...
2011-06-03
Just before 10:00 a.m. on June 20, 2001, a uniformed police officer was dispatched to do what he thought was a routine welfare check at a home in Houston, Texas. When the officer met Andrea Yates at the door, she immediately told him, "I just killed my kids." When Yates was later asked why she drowned her five children, she claimed she had to in order to save them from hell. The police would learn that Yates had been suffering from long-term post-partum depression and psychosis. Nearly 10 years after Andrea Yates killed her five children, the case remains hotly debated ...