Improving water quality could help conserve insectivorous birds -- study
Scarcity of insect prey in disturbed lakes and streams drives decline of birds
2021-02-26
(Press-News.org) A new study shows that a widespread decline in abundance of emergent insects - whose immature stages develop in lakes and streams while the adults live on land - can help to explain the alarming decline in abundance and diversity of aerial insectivorous birds (i.e. preying on flying insects) across the USA. In turn, the decline in emergent insects appears to be driven by human disturbance and pollution of water bodies, especially in streams. This study, published in END
ELSE PRESS RELEASES FROM THIS DATE:
2021-02-26
Who would have thought that a small basic compound like vitamin B6 in the banana or fish you had this morning may be key to your body's robust response against COVID-19? Studies have so far explored the benefits of vitamins D and C and minerals like zinc and magnesium in fortifying immune response against COVID-19. But research on vitamin B6 has been mostly missing. Food scientist END ...
2021-02-26
HDL cholesterol (high-density lipoprotein cholesterol) or good cholesterol is associated with a decreased risk of cardiovascular disease as it transports cholesterol deposited in the arteries to the liver to be eliminated. This contrasts with the so-called bad cholesterol, LDL (low-density lipoprotein cholesterol), which causes cholesterol to accumulate in the arteries and increases cardiovascular risk. Although drugs that lower bad cholesterol reduce cardiovascular risk, those that raise good cholesterol have not proven effective in reducing the risk of heart disease. This paradox has called into question the ...
2021-02-26
Whilst the nation has taken to washing its hands regularly since the start of the pandemic, other individual behaviours, such as cleaning and disinfecting surfaces or social distancing within the home, have proved harder to stick, say the researchers behind the behaviour change website 'Germ Defence'. In their new study, published today (Friday 26 February 2021) in the Journal of Medical Internet Research, psychologists from the universities of Bath, Bristol and Southampton, warn of the continuing risks of household transmission of COVID-19 and the ongoing importance of breaking chains of transmission now and in the future. Their research analysed user data of the ...
2021-02-26
Treating critically ill COVID-19 patients with drugs typically used for rheumatoid arthritis may significantly improve survival, a landmark study has found. The findings, which were announced in January and have now been peer-reviewed and published in the New England Journal of Medicine, come from the REMAP-CAP trial, which evaluates the effect of treatments on a combination of survival and length of time patients need support in an intensive care unit (ICU). Initial findings reported in November showed that tocilizumab, a drug used to treat arthritis, was likely to improve outcomes among critically ill COVID-19 ...
2021-02-25
Clinical research requires that data be mined for insights. Machine learning, which develops algorithms to find patterns, has difficulty doing this with data related to health records because this type of information is neither static nor regularly collected. A new study developed a transparent and reproducible machine learning tool to facilitate analysis of health information. The tool can be used in clinical forecasting, which can predict trends as well as outcomes in individual patients. The study, by a researcher at Carnegie Mellon University (CMU), appears in Proceedings of Machine Learning Research. "Temporal Learning Lite, or TL-Lite, is a visualization and forecasting tool to ...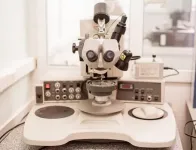 2021-02-25
Physicists from Russia, Chile, Brazil, Spain, and the UK, have studied how the magnetic properties change in 3D nanowires, promising materials for various magnetic applications, depending on the shape of their cross-section. Particularly, they more deeply probed into the Walker breakdown phenomenon, on the understanding of which the success of the implementation of the future electronics devices depends. The research outcome appears in Scientific Reports. The cross-sectional geometry of a three-dimensional nanowire affects the domain wall dynamics and therefore is crucial for their control. In turn, managing the DW dynamics under various external conditions is necessary in order to realize the future electronics and computing devices, operating on new physical principles. ...
2021-02-25
Born in food web ecology, the concept of trophic levels -- the hierarchy of who eats who in the natural world -- is an elegant way to understand how biomass and energy move through a natural system. It's only natural that the idea found its way into the realm of aquaculture, where marine and freshwater farmers try to maximize their product with efficient inputs. "It's often used as a measure of how sustainable it is to harvest or consume that species," said Rich Cottrell(link is external), a postdoctoral researcher at UC Santa Barbara's National Center for Ecological Analysis & Synthesis (NCEAS). As plants (level 1) become food to plant eaters (level 2), who in turn are consumed by carnivores (level 3) and so on, the amount of energy ...
2021-02-25
Hypertrophic cardiomyopathy (HCM) is a cardiovascular disease characterized by thickening of the left ventricle, otherwise known as the main squeezing chamber of the heart. HCM is best known for causing sudden death in athletes but can occur in persons of any age, often without symptoms. While frequently discussed in the context of genetics, most patients with HCM do not have a known genetic variant. Investigators from Brigham and Women's Hospital uncovered a means to study the complexity of this disease beyond the identification of individual genes. This new approach offers a path toward treating HCM using individualized medicine. ...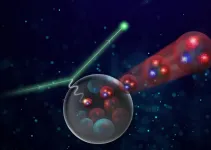 2021-02-25
While protons populate the nucleus of every atom in the universe, sometimes they can be squeezed into a smaller size and slip out of the nucleus for a romp on their own. Observing these squeezed protons may offer unique insights into the particles that build our universe. Now, researchers hunting for these squeezed protons at the U.S. Department of Energy's Thomas Jefferson National Accelerator Facility have come up empty handed, suggesting there's more to the phenomenon than first thought. The result was recently published in Physical Review Letters. "We were looking to squeeze the proton such that its quarks are in a small-size configuration. And that's a pretty tough ...
2021-02-25
A University of Oklahoma-led study published in 2020 revealed that both area and plant growth of paddy rice is significantly related to the spatial-temporal dynamics of atmospheric methane concentration in monsoon Asia, where 87% of the world's paddy rice fields are situated. Now, the same international research team has released a follow-up discussion paper in the journal Nature Communications. In this paper, the team identifies the limits and insufficiency of the major greenhouse emission database (EDGAR) in estimating paddy rice methane emissions. "Methane emission from paddy ...
LAST 30 PRESS RELEASES:
[Press-News.org] Improving water quality could help conserve insectivorous birds -- study
Scarcity of insect prey in disturbed lakes and streams drives decline of birds