Team cracks century-old mystery over the health struggles of explorer Ernest Shackleton
The severe nutrient deficiency beriberi is found to be the primary cause of Shackleton's bouts of breathlessness and weakness
2021-05-04
(Press-News.org) BOSTON - Researchers from Massachusetts General Hospital (MGH) appear to have solved the 120-year-old mystery surrounding the failing health of famed Antarctic explorer Sir Ernest Shackleton over the course of his daring expeditions to Antarctica in the early part of the twentieth century. In a paper published online in the END
ELSE PRESS RELEASES FROM THIS DATE:
2021-05-04
Researchers have found that people who live beyond 105 years tend to have a unique genetic background that makes their bodies more efficient at repairing DNA, according to a study published today in eLife. This is the first time that people with 'extreme longevity' have had their genomes decoded in such detail, providing clues as to why they live so long and manage to avoid age-related diseases. "Aging is a common risk factor for several chronic diseases and conditions," explains Paolo Garagnani, Associate Professor at the Department of Experimental, Diagnostic ...
2021-05-04
Studying protein changes in the kidneys as we age, as well as the transcription of genes into proteins, helps provide a full picture of the age-related processes that take place in these organs, says a study in mice published today in eLife. Aging causes many changes in the body and in essential organs such as the kidneys, which function less efficiently later in life. Age-related changes in the kidneys have mostly been reported by looking at the transcription of genes - the process by which a segment of DNA is copied into RNA. The current study suggests that this approach, combined with studying changes in proteins, gives us a better understanding of age-related changes in the kidney and may point to new approaches for treating ...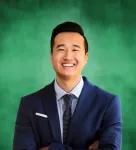 2021-05-04
TAMPA, Fla. (May 4, 2021) -- Repetitive transcranial magnetic stimulation, or rTMS, was FDA approved in 2008 as a safe and effective noninvasive treatment for severe depression resistant to antidepressant medications. A small coil positioned near the scalp generates repetitive, pulsed magnetic waves that pass through the skull and stimulate brain cells to relieve symptoms of depression. The procedure has few side effects and is typically prescribed as an alternative or supplemental therapy when multiple antidepressant medications and/or psychotherapy do not work. Despite increased use ...
2021-05-04
LONDON, ON - New findings from Ontario have shown that children born in Sarnia have a higher risk of developing asthma compared to neighbouring cities. A research team from Lawson Health Research Institute and Western University, using provincial data from ICES, found that higher air pollution exposure in the first year of life very likely contributed to this higher risk. Their results are published today in CMAJ Open. Summary of study results: -Children born in Sarnia in the 1990s and early 2000s were disproportionally at a higher risk of developing asthma in the first few years of life, compared to neighbouring cities. -Air pollution exposure ...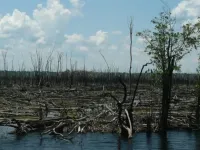 2021-05-04
Agência FAPESP – White-sand savannas are expanding in the heart of the Amazon as a result of recurring forest fires, according to a study published in the journal Ecosystems. The study was supported by FAPESP, and conducted by Bernardo Monteiro Flores, currently a postdoctoral fellow in ecology at the Federal University of Santa Catarina (UFSC) in Brazil, and Milena Holmgren, a professor in the Department of Environmental Sciences at Wageningen University in the Netherlands. "The edges of the Amazon Rainforest have long been considered the ...
2021-05-04
FINDINGS A new study by researchers at the UCLA Jonsson Comprehensive Cancer Center has identified a novel combination therapy to potentially help overcome resistance to immunotherapy in people diagnosed with advanced lung cancer. The combination approach uses immune checkpoint inhibitors with ATRA, a safe medication that is widely used to treat leukemia. The team found the combination therapy led to eradication of over 70% of tumors when tested in mice with LKB1-deficient lung cancer. It also generated durable tumor-specific immunity. BACKGROUND Immune checkpoint inhibitors have substantially ...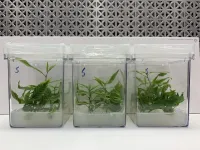 2021-05-04
As nurseries and garden centers fill up with spring landscaping plants, home gardeners owe a lot to a technique called micropropagation, which has proven beneficial to many plants - perhaps soon to include cannabis, thanks to work by UConn researchers in the College of Agriculture, Health, and Natural Resources. Micropropagation is a technique used for growing large quantities of new plants from fewer "parent" plants, yielding clones with the same, predictable qualities. The cannabis (Cannabis sativa) industry, however, has been largely left out of this beneficial technique, because this species of plant is extremely difficult to micropropagate. Researchers from UConn - including Associate Professor Jessica Lubell-Brand, Ph.D. student Lauren Kurtz, and Professor Mark ...
2021-05-04
May 4, 2021 - From the very beginning of the AIDS epidemic in 1981, nurses have been at the forefront of patient care, advocacy, and research. But even in the age of antiretroviral therapy and pre-exposure prophylaxis, many challenges remain in reducing the impact of HIV and AIDS, according to the special May/June issue of END ...
2021-05-04
Relatives of the giant crocodile might have been kings of the waterways during the Cretaceous period, eating anything--including dinosaurs--that got a little too close to the water's edge, but the largest of these apex predators still started off small. Figuring out how these little crocs grew up in a world surrounded by giants is no small task. Now crocs fossils from Texas are shedding light on how these animals changed their diets as they grew, helping them find a place of their own in environments alongside their bigger, badder relatives. According to the study, published by Cambridge University Press, the crocodiless in question are members of the Deltasuchus motherali and lived along the coastline of Texas 96 million years ...
2021-05-04
Scientists have shed light on why some people who have a stroke do not also have abnormal heart rhythms, even though their hearts contain similar scar tissue. Their results, published today in eLife, could help identify the best treatments for people who might be at risk of recurrent stroke, new heart disorders, or both. Strokes are often caused by abnormal blood flow resulting from rapid, irregular beating in the upper chamber of the heart. This is also called atrial fibrillation (AFib). But some people have strokes that appear to have been caused by the heart, ...
LAST 30 PRESS RELEASES:
[Press-News.org] Team cracks century-old mystery over the health struggles of explorer Ernest Shackleton
The severe nutrient deficiency beriberi is found to be the primary cause of Shackleton's bouts of breathlessness and weakness