School-based dental program reduces cavities by more than 50%
Study of nearly 7,000 elementary school students demonstrates success of school-based model and its potential to reduce health disparities and save federal dollars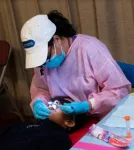 2021-03-01
(Press-News.org) A school-based cavity prevention program involving nearly 7,000 elementary school students reduced cavities by more than 50 percent, according to a study led by researchers at NYU College of Dentistry. The findings are END
[Attachments] See images for this press release: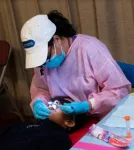 ELSE PRESS RELEASES FROM THIS DATE:
2021-03-01
White blood cells or lymphocytes are the soldiers of our immune system that patrol the body via the lymphatic system. While their primary role is to protect the body by scavenging invaders, they can sometimes go rogue and become the enemy. Lymphoma, a type of blood cancer, results from the uncontrolled proliferation of lymphocytes. They are classified as Hodgkins and Non-Hodgkins lymphomas on the basis of the cell of origin and clinical characteristics. Of them, diffuse large B-cell lymphoma (DLBCL) is the most common Non-Hodgkins lymphoma and is highly aggressive and fast-growing. A combination of rituximab plus cyclophosphamide, doxorubicin, vincristine, and prednisone (R-CHOP) is the standard treatment regimen for ...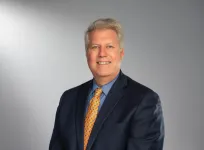 2021-03-01
In a new commentary for the journal Science, an associate vice president for research at The University of Texas at Arlington argues that emerging protein-based immunotherapies could lead to highly effective "off-the-shelf" cancer treatments for more patients. Jon Weidanz, who also is a professor in the College of Nursing and Health Innovation at UTA, is the author of a perspective regarding the development of cancer immunotherapies. His article, "Targeting cancer with bispecific antibodies," will appear in the March 5 edition of Science. It evaluates the findings of three studies by researchers at Johns Hopkins University and proposes that an emerging ...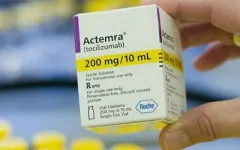 2021-03-01
In a study published online February 25, 2021 in The New England Journal of Medicine, a repurposed drug used to treat arthritis did not significantly improve the outcomes of patients with severe COVID-19 pneumonia. Results of the Phase III clinical trial, conducted by an international team led by senior author Atul Malhotra, MD, research chief of pulmonary, critical care and sleep medicine at UC San Diego Health, found that tocilizumab did not significantly improve clinical status or mortality rate at 28 days for participants who received it compared to a placebo. "Although our trial was negative based on primary outcomes, we did see some benefits, including an improvement in length of stay of eight days ...
2021-03-01
In early 2020, daily life in Northern China slammed to a halt as the region entered a strict period of lockdown to slow the spread of COVID-19. Emissions from transportation and industry plummeted. Emissions of nitrogen oxides (NOx) from fossil fuels fell by 60 to 70 percent. And yet, environmental researchers noticed that ground-level ozone pollution in Beijing and the Northern China Plain skyrocketed during this time period, despite the decrease of NOx, a component of ozone. The region is no stranger to severe ozone pollution but until about five years ago, most ozone events occurred ...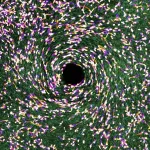 2021-03-01
CORVALLIS, Ore. - Oregon State University research has revealed a crucial mechanism behind one of humankind's most deadly physiological processes: the movement of malignant cells from one part of the body to another. Published in the Proceedings of the National Academy of Sciences, the study led by OSU biophysicist Bo Sun shows the role that tissues' microscopic geometry plays in cancer metastasis, the internal spreading of the disease that's responsible for 95% of all cancer deaths. To develop drugs that effectively combat metastasis, it's fundamentally important to understand what directs the metastatic process, Sun said. "Our results show the level of tissue fiber alignment, particularly ...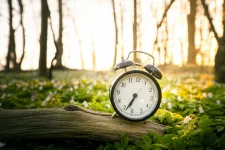 2021-03-01
A University of Melbourne led study has established how plants use their metabolism to tell time and know when to grow - a discovery that could help leverage growing crops in different environments, including different seasons, different latitudes or even in artificial environments and vertical gardens. Published in the PNAS journal, Superoxide is promoted by sucrose and affects amplitude of circadian rhythms in the evening, details how plants use their metabolism to sense time at dusk and help conserve energy produced from sunlight during the day. Lead ...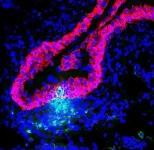 2021-03-01
DURHAM, N.C. - Anyone who has ever developed a urinary tract infection (UTI) knows that it can be painful, pesky and persistent. UTIs have a high recurrence rate and primarily afflict women -- as many as 50% of women will experience at least one UTI during their lifetime. However, what if patients could take a vaccine that would prevent future UTIs? In a March 1 study in the Proceedings of the National Academy of Sciences, Duke researchers describe a new vaccination strategy that they think could re-program the body to fight off the bacteria that cause urinary tract infections. "Although several vaccines against UTIs have been investigated in clinical trials, they have so far had limited success," said Soman Abraham, Ph.D., Grace Kerby Distinguished Professor of Pathology, Immunology ...
2021-03-01
A new study from Boston Children's Hospital and the Massachusetts Department of Health compared one of the latest rapid antigen tests for COVID-19 -- the Abbott BinaxNOW -- with a highly accurate PCR test in a high-volume, drive-thru testing environment. They found that the rapid test detected almost all adults who tested positive by PCR if they had had symptoms lasting seven days or less. In symptomatic children with less than seven days of symptoms, the test picked up about 85 percent of true positive cases. But no matter the age, if the patient had high amounts of virus in their nose, the test caught it 99 percent of the time. It was also able to rule out COVID-19 ...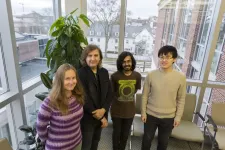 2021-03-01
The human gut consists of a complex community of microbes that consume and secrete hundreds of small molecules--a phenomenon called cross-feeding. However, it is challenging to study these processes experimentally. A new study, published in END ...
2021-03-01
Researchers from Skoltech and the University of Cambridge have shown that polaritons, the quirky particles that may end up running the quantum supercomputers of the future, can form structures behaving like molecules - and these "artificial molecules" can potentially be engineered on demand. The paper outlining these results was published in the journal Physical Review B Letters. Polaritons are quantum particles that consist of a photon and an exciton, another quasiparticle, marrying light and matter in a curious union that opens up a multitude of possibilities in next-generation polaritonic devices. Alexander Johnston, Kirill Kalinin and Natalia Berloff, professor at the Skoltech Center for Photonics and Quantum Materials ...
LAST 30 PRESS RELEASES:
[Press-News.org] School-based dental program reduces cavities by more than 50%
Study of nearly 7,000 elementary school students demonstrates success of school-based model and its potential to reduce health disparities and save federal dollars