COVID-19 conspiracy beliefs increased among users of conservative and social media
Conspiracy beliefs decline among mainstream news readers, study finds
2021-05-03
(Press-News.org) PHILADELPHIA - Belief in conspiracies about the COVID-19 pandemic increased through the early months of the U.S. outbreak among people who reported being heavy users of conservative and social media, a study by Annenberg Public Policy Center (APPC) researchers has found.
ELSE PRESS RELEASES FROM THIS DATE:
2021-05-03
Many people in Switzerland experienced considerable psychological distress during the first COVID-19 lockdown from mid-March to the end of April 2020. Researchers from the Department of Child and Adolescent Psychiatry and Psychotherapy at the University Hospital of Psychiatry Zurich (PUK) and the University of Zurich in collaboration with the La Source School of Nursing have now examined the most common sources of stress among children, adolescents, their parents and young adults. For their study, the researchers used representative samples in Switzerland of 1,627 young adults aged 19 to 24 as well as 1,146 children and adolescents between the ages of 12 and 17 and their parents. Uncertainty, disruption, postponement "Uncertainty during last year's lockdown was considerable ...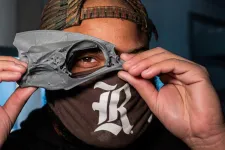 2021-05-03
HOUSTON - (May 3, 2021) - Ever look at a flatfish like a flounder or sole, with two eyes on one side of its head, and think, "How did that happen?" You're in luck. Rice University biologist Kory Evans has the answer. "Flatfishes are some of the weirdest vertebrates on the planet, and they got weird very, very fast by changing multiple traits at once over a short period of time," said Evans, an assistant professor of biosciences at Rice who specializes in studying the evolution of fish over long time scales. Of all mammals, reptiles, birds, amphibians and fish, flatfish are easily the most asymmetric. Evans, the corresponding author ...
2021-05-03
Biologists at Ludwig-Maximilians-Universitaet (LMU in Munich) have significantly enhanced the tolerance of blue-green algae to high light levels - with the aid of artificial evolution in the laboratory. Sunlight, air and water are all that cyanobacteria (more commonly known as blue-green algae), true algae and plants need for the production of organic (i.e. carbon-based) compounds and molecular oxygen by means of photosynthesis. Photosynthesis is the major source of building blocks for organisms on Earth. However, too much sunlight reduces the efficiency of photosynthesis because it damages the 'solar panels', i.e. the photosynthetic machineries of cyanobacteria, algae and plants. A team of researchers led by LMU biologist Dario Leister has ...
2021-05-03
New Haven, Conn. --Yale researchers have shown that developmental abnormalities, including those that lead to pregnancy loss and autism, are controlled by the genetics of the fetus and placenta -- and not the mother's intrauterine environment. The findings are reported in the April 28 online edition of the journal Placenta. One out of every 33 children is diagnosed with a birth defect each year in the United States, according to the Centers for Disease Control and Prevention (CDC). This translates into one baby born every 4 ½ minutes -- or 120,000 per year. "Mothers ...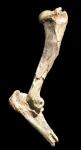 2021-05-03
COLUMBUS, Ohio - A giant saber-toothed cat lived in North America between 5 million and 9 million years ago, weighing up to 900 pounds and hunting prey that likely weighed 1,000 to 2,000 pounds, scientists reported today in a new study. The researchers completed a painstaking comparison of seven uncategorized fossil specimens with previously identified fossils and bone samples from around the world to describe the new species. Their finding makes a case for the use of the elbow portion of the humerus - in addition to teeth - to identify fossils of large saber-toothed cats whose massive forearms enabled ...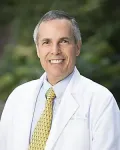 2021-05-03
CHAPEL HILL, North Carolina--A comprehensive review by University of North Carolina researchers and colleagues highlights the optimal ways that focused, high-dose radiation can be delivered to various types of tumors while sparing normal tissue and mitigating long-term side effects. The review was reported as a special issue in the International Journal of Radiation Oncology, Biology, Physics on May 1, 2021. This analysis was based on an exhaustive review of data and the literature published largely in the past decade. It updates an earlier review that primarily focused on the effects of conventional radiation therapy on normal tissue. This new review also includes important analyses ...
2021-05-03
Exposure to air pollution, even over the course of just a few weeks, can impede mental performance, according to a new study led by researchers at Columbia University Mailman School of Public Health. However, these adverse effects were lessened in people taking nonsteroidal anti-inflammatory drugs (NSAIDs) like aspirin. The study is among the first to explore short-term air pollution exposures and the use of NSAIDs to mitigate their effects. The results are published in the journal Nature Aging. Examples of events that would increase someone's exposure to air pollution over the short term could include forest fires, smog, second-hand cigarette smoke, charcoal ...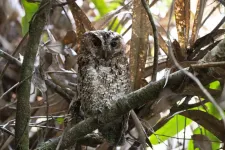 2021-05-03
The Bornean subspecies of Rajah scops owl (Otus brookii brookii), documented in the wild for the first time since 1892, may be its own unique species and deserving of a conservation designation. Published April 28 in The Wilson Journal of Ornithology, Smithsonian Migratory Bird Center ecologist Andy Boyce reported the rediscovery and photographed this elusive subspecies in the mountainous forests of Mount Kinabalu in Sabah, Malaysia. "It was a pretty rapid progression of emotions when I first saw the owl--absolute shock and excitement that we'd found this mythical bird, then pure anxiety that I had to document it as fast as I could," Boyce said. "Based on size, eye color and habitat, I knew it was the Bornean Rajah scops owl. What's more, taking into ...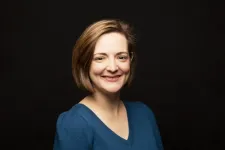 2021-05-03
East Hanover, NJ. May 3, 2021. An international team of multiple sclerosis (MS) researchers showed that longitudinal changes in social cognition are associated with psychological outcomes of daily living, suggesting that social cognition may exert a central role in people with MS. The article, "Social Cognition in Multiple Sclerosis: A 3-Year Follow-Up MRI and Behavioral Study" (doi: 10.3390/diagnostics11030484) was published on March 9, 2021, in Diagnostics. It is available open access at https://www.ncbi.nlm.nih.gov/pmc/articles/PMC8001246/. The authors are Helen M. Genova, PhD, of Kessler Foundation's Center for Neuropsychology ...
2021-05-03
Individuals living with severe Alzheimer's disease showed remarkable improvements in behaviour and cognition within days of receiving an innovative new treatment that delivered low doses of radiation, a recent Baycrest-Sunnybrook pilot study found. "The primary goal of a therapy for Alzheimer's disease should be to improve the patient's quality of life. We want to optimize their well-being and restore communication with family and friends to avoid social isolation, loneliness and under-stimulation. Although the study was a small pilot and should be interpreted with caution, our results suggest that low-dose radiation therapy may successfully achieve this," says Dr. Morris Freedman, scientist at Baycrest's Rotman Research ...
LAST 30 PRESS RELEASES:
[Press-News.org] COVID-19 conspiracy beliefs increased among users of conservative and social media
Conspiracy beliefs decline among mainstream news readers, study finds