Hundreds of chemicals, many in consumer products, could increase breast cancer risk
List includes potential carcinogens that act by stimulating production of hormones that fuel breast tumors
2021-07-21
(Press-News.org) Every day, people are exposed to a variety of synthetic chemicals through the products they use or the food they eat. For many of these chemicals, the health effects are unknown. Now END
ELSE PRESS RELEASES FROM THIS DATE:
2021-07-21
New research published in the European Journal of Clinical Investigation identifies cardiovascular test results that might help to identify patients hospitalized with COVID-19 who face an especially high risk of dying. Out of 1,401 patients with a confirmed diagnosis of COVID-19 admitted to seven Italian centers, 226 (16.1%) underwent transthoracic echocardiography within 48 hours of admission. In-hospital death occurred in 68 patients (30.1%). Low left ventricular ejection fraction, low tricuspid annular plane systolic excursion, and acute respiratory distress syndrome were independently associated with in-hospital mortality. "Clinical ...
2021-07-21
Chronic lymphocytic leukemia (CLL) is the most common leukemia in the Western world. New research published in the Journal of Leukocyte Biology reveals that certain protein markers may indicate which patients have stable forms of CLL and which have more aggressive types. Identifying these proteins may not only help determine patients' prognoses but also point to potential therapeutic targets for investigators who are searching for new CLL treatments. "The results offer a meaningful biological approach into the protein composition of CLL cells at an early stage of the disease, when the clinical characteristics of patients are similar and the course of the disease is difficult to predict. ...
2021-07-21
The COVID-19 pandemic has strongly impacted our sleep and dream activity. In a recent study published in the Journal of Sleep Research, people had a higher number of awakenings, a harder time falling asleep, higher dream recall, and more lucid dreams during lockdown than after lockdown. People also reported more dreams related to "being in crowded places" during post-lockdown than lockdown. For the study, 90 adults in Italy recorded their dream experiences and completed a sleep-dream diary each morning. "Our results... confirmed that both sleep and ...
2021-07-21
The frequency of misattributed paternity, where the assumed father is not the biological father, is low and decreasing in Sweden, according to an analysis of 1.95 million family units with children born mainly between 1950 and 1990. In the Journal of Internal Medicine analysis, the overall rate of misattributed paternity was 1.7%, with rates closer to 1% in more recent decades. The authors note that beyond its general scientific and societal relevance, the frequency of misattributed paternity has implications for studies on hereditary conditions. The study's findings indicate that misattributed paternity is unlikely to have large effects on such studies. "Using simple but elegant methods, together with large-scale ...
2021-07-21
New research published in the Journal of Bone and Mineral Research has found that cognitive decline is linked with accelerated bone loss and an increased fracture risk in women. In the study of 1,741 women and 620 men aged ?65 years without dementia who were followed from 1997 through 2013, both genders experienced similar declines in cognitive function and bone mass. After adjustments, cognitive decline was associated with bone loss in women but not men. Also, significant and clinical important cognitive decline in women was associated with a 1.7-fold higher risk of bone fractures ...
2021-07-21
When researchers evaluated consumers' understanding of allergy information on food labels, less than half of individuals found the information to be clear. The study, which is published in Clinical & Experimental Allergy, involved two separate experiments with a total of 96 consumers with food allergies and 105 without. Investigators first randomly presented 18 different food products with labels suggesting peanut was, may be, or was not an ingredient, and then they presented three different formats of information: 'Produced in a Factory' and 'May contain' or 'Traces of'. Precautionary allergen labels (PALs) were especially problematic, ...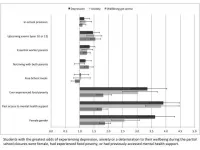 2021-07-21
A new study published in JCPP Advances has compared the wellbeing of UK students who remained at home for schooling during the first lockdown period of the COVID-19 pandemic with those who accessed school in person. In the study, which included 11,765 students in grades 8-13 (aged 12-21 years), females, students who had experienced food poverty, and those who had previously accessed mental health support were at greatest risk of depression, anxiety, and a deterioration in wellbeing. Students who accessed in-person schooling had poorer mental health, but this was accounted for by their different characteristics and background circumstances. "Identifying ...
2021-07-21
Although in-school transmission of COVID-19 among K-12 students is low when safeguards are in place, the risk of acquiring COVID-19 during school bus transportation is unclear. A study published in the Journal of School Health reports on the bus transport experience of an independent school in Virginia. For the study, the school monitored 1,154 students with asymptomatic PCR testing every 2 weeks initially and later every week from August 28, 2020-March 19, 2021, during highest community transmission. Fifteen buses served 462 students while operating at near capacity of 2 students in every seat, using a physical distancing minimum of 2.5 feet, universal masking, and simple ventilation techniques. ...
2021-07-21
A systematic review and meta-analysis published in Campbell Systematic Reviews identified and examined more than 100 risk and protective factors for radical attitudes, intentions, and behaviors (including terrorism) in democratic countries. The factors can be grouped into five domains: socio-demographic and background factors, psychological and personality trait factors, attitudinal and subjective belief related factors, experiential factors, and traditional criminogenic factors While there is great variation, the most significant factors ...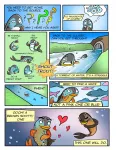 2021-07-21
It's important to communicate about hard-to-see and complex environmental topics and issues with young people. In an article published in People and Nature, an international team reflects on the group's creation of the Shout Trout Workout, a lyric poem, comic, and music video for children aged 8-14 years old designed to entertain, engage, and enrich learning about migratory fishes and aquatic environments. The authors hope that sharing their experiences and reflections will be useful and inspiring for those who aim to create learning enrichment and engagement materials about ecological ...
LAST 30 PRESS RELEASES:
[Press-News.org] Hundreds of chemicals, many in consumer products, could increase breast cancer risk
List includes potential carcinogens that act by stimulating production of hormones that fuel breast tumors