2010-08-19
Until August 20th, exhibitors of the cinec can submit their application for the cinecAward. The jury is looking for innovations and clever solutions that save time or money or alleviate the work on set in any other way. As the only prize for motion picture technology in Germany, the cinecAward is awarded by the Bavarian Society for the Advancement of Film Technology (FGF) in seven categories: Camera Technology, Optics, Camera Support/Grip, Camera Equipment, Lighting Engineering, Postproduction/Digital Editing and the "clever idea". The prize will be awarded on September ...
2010-08-19
City-Discovery.com names its top 10 summer activities in San Francisco, selected from over 30 attractions in the Bay Area. The travel website announced that its Top 10 picks are based on customer reviews, ratings and bookings. Popular attractions include the Golden Gate Bridge, cable cars, Alcatraz, and Chinatown. Day tours in nearby attractions outside city limits, such as Wine Country, Yosemite, Muir Woods and Sausalito also found their way to the top 10. The selected activities in San Francisco are part of a series of top 10 recommended summer activities in popular ...
2010-08-19
The night shots are one of their latest productions and prelude an upcoming series of asian metropolises that was entirely shot on large format. Besides the former british colony, the photographer Thomas Birke also visited Seoul. South Koreas capital is inhabited by over 10 millionen people and offered another striking backdrop for his inspiring work. His look at the densely populated areas grants an exceptional view on the metropolises and was driven by the ambition to picture at least one thousand people or their traces within the urban landscapes. In the digital age ...
2010-08-19
SWEET BEAUTY INTRODUCES NEW TROPICAL TREAT COLLECTION TO BRING THE VACATION TO YOU All-Natural Spa-Grade Skincare that Nourishes Both the Skin and the Soul August 17, 2010 (Seattle, Wash.) - Sweet Beauty all-natural skincare is introducing its new Tropical Treat Collection - a non-stop, direct flight to warm, fragrant breezes with exotic hints of coconut and pineapple. Tropical Treat is a dreamy tropical vacation wrapped up in a lotion, body oil, sugar scrub and lip balm that will rejuvenate and soothe skin on even the most dreary of winter days. Its exotic fragrance ...
2010-08-19
SEOCompany.net has brought internet marketing to surpassing levels when it comes to web promotions. Search engine optimization refers to converting your website visitors to potential buyers by displaying you as an expert in your field and giving a substantial amount of external links that are linked back to your website on other popular sites. When it comes to Social Networking, a recent survey denotes that it is the second largest activity on the internet. SEOCompany.net fosters the viral nature of this extremely intriguing networking system and launches Social Networking ...
2010-08-19
MrTed, which recently agreed to be acquired by StepStone Solutions, is one of the world's leading providers of on-demand talent acquisition solutions. By deploying MrTedTalentLink , the Randstad Group will be able to ensure a first class, cost effective, comprehensive end-to-end delivery for its UK corporate accounts - managing the entire recruitment lifecycle in partnership with the multi-discipline and highly specialist portfolio of Randstad operating companies. Kelly Quirk, managing director of Randstad Corporate & Managed Services comments "After an extensive ...
2010-08-19
Anchor Vans has responded to an increase in demand for air conditioned used vans by adding new functionality to their award-winning website, enabling used van customers to narrow their search rapidly and view listings of air conditioned used vans within two clicks. The changes to the used van listing pages also enable used van buyers to narrow their search by fuel type, colour, transmission, mileage and price range, as well as allowing customers to look at vans with particular features such as electric windows and leather seating. For more information call 0118 9710 230 ...
2010-08-19
Average daily prices for hire cars in many of the world's most popular holiday destinations have risen by 30%, says the leading car hire price comparison company, www.carrentals.co.uk. Spain car hire is as popular as ever even though prices have gone up so much, while the reports also include a look at the prices of hire cars in Portugal and Madeira, Italy, Greece, UK, USA, Ireland, Turkey, Croatia and France. The average price per day for car rentals in Turkey this year has gone up by a massive 76% with an average price of more than GBP40. Croatia shows a hike of ...
2010-08-19
Coast Acoustics is coming to the Gold Coast next month, combining live music performances with the chance to pick up some top tips from industry experts. Taking place at Glennon Park and All Sports Community Club in Nerang on September 18th and 19th, the event promises to be a weekend of musical fun for all the family to enjoy. A number of bluegrass, blues and folk and roots artists have been lined up to play to guests at Gold Coast hotels across the two days, with the likes of Mick McHugh, the Stetson Family, Coolgrass and the Hillbillygoats all set to perform on ...
2010-08-19
World Tourism Day is being held in China this year, but that won't stop the locals in Langkawi from celebrating the annual occasion. Guangdong Province will host the official event on September 27th 2010, with officials at the UN World Tourism Organisation (WTO) declaring this year's theme to be 'tourism and biodiversity'. Secretary general of the UNWTO Taleb Rifai explained back in March that the two subjects which make up the theme are reliant on each other. "UNWTO wishes to raise awareness and calls upon the tourism stakeholders and travellers themselves to ...
2010-08-19
The paradise island of Bali will play host to the seventh Asian regional conference of the International Industrial Relations Association (IIRA) towards the end of next month. Attendees of the event, which runs between September 20th and 23rd 2010, will flock to the Sanur Beach, Bali venue - close to a number of Seminyak hotels - to hear keynote speeches from a number of high-ranking officials. Indonesian vice president Dr Boediono will be one of the government representatives to speak at the conference, which has been given the theme "Industrial Democracy, Partnership ...
2010-08-19
A host of famous tennis stars are set to take to the courts in Kuala Lumpur towards the end of next month as they battle it out in the Malaysian Open. The tournament runs between September 25th and October 3rd 2010, but a number of big-name pros - including the likes of Robin Soderling, Tomas Berdych, Nikolay Davydenko, David Ferrer and Lleyton Hewitt - have already confirmed they will be appearing. All of them will be competing to reach the final at the Putra Stadium in Bukit Jalil, where they are set to be greeted by up to 7,000 fans on centre court. If the words ...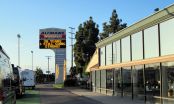 2010-08-19

Joe Altman, president of Altmans Winnebago, announced today that while Altmans will be continuing its normal retail sales, service, rentals, and parts operation in Carson, California, its location in Colton, California would be closing its doors. "We have made the difficult decision," said Altman, "to suspend our operations and close our store at the American RV Expo in Colton. It's been over two years since this serious economic downturn began and our efforts to maintain an adequate sales volume have not been sufficient to sustain profitability." Altman also stated ...

2010-08-19

More Bedroom Sets, one of the leading online retailers of bedroom set items and bedroom furniture, is offering consumers free shipping and no taxes on select items until August 23, 2010. These items range from bedroom furniture set pieces, to platform beds and cribs. In addition to this special offer, MoreBedroomSets' list prices are lower than other retailers, both on and offline. MoreBedroomSets also has two different ways to purchase products online: by secure checkout with credit card or by PayPal. Phone orders are also accepted.About MoreBedroomSets.com More Bedroom ...

2010-08-19

More Platform Beds, one of the leading online retailers of platform beds, is announcing free shipping and no tax until August 23, 2010 on select furniture and accessories. During this sale you will find reduced pricing on baby cribs, platform bedroom sets, cribs, desks and more. In addition to this special offer, More Platform Beds' list prices are lower than other retailers, both on and offline. MorePlatformBeds also has two different ways to purchase their products online: by secure checkout with credit card or by PayPal. Phone orders are also accepted. About MorePlatformBeds: More ...

2010-08-19

Baby Crib Station, one of the leading online retailers of baby cribs, nursery sets, changing tables and accessories, is offering its customers no tax and free shipping until August 23, 2010 on selected baby cribs, convertible crib furniture, and other items. Some of the most popular brands of baby cribs will be on sale, including DaVinci and Stork Craft. In addition to this special promotion, Baby Crib Station offers customers list prices that are below that of other online retailers. Baby Crib Station also has two convenient ways to purchase products online: secure ...

2010-08-19

Anyone who has had a toothache before knows it's an unbearable pain; but a lot of people won't do anything to fix it. A tooth ache can be very uncomfortable and can cause your sleeping habits to be interrupted. There are many reason's a toothache can occur and people with a tooth ache will do just about anything to get rid of it. Toothache and jaw pain are common complaints. A Toothache is caused by tooth or jaw problems, such as large cavities, a cracked tooth, exposure of the tooth root, gum disease, disease of the jaw joint, or spasms of the muscles used for chewing. ...

2010-08-19

In the midst of summer, thousands of people are denied entry into the U.S. under INA 214(b), and may not be able to return for years to come, some never. That section of law deals with intending immigrants, or people who want to live in the United States. It basically states that if you intend on living in the U.S. you cannot enter as a visitor. Most people do not know of INA [Immigration and Nationality Act] 214(b). Some people, intending on complimenting the immigration officer about living in the U.S., get themselves barred and find themselves in custody. This article ...

2010-08-19

The X-Change Corporation, a multimedia, telephony, and e-commerce venture focused on various underserved ethnic communities in the United States and elsewhere, announced the pending acquisition of IPTV World, a company based in Los Angeles with hosting facilities in the famous One Wilshire carrier hotel. The acquisition is subject to the execution of a definitive agreement. As previously announced on March 11, 2010, X-Change intends to offer original and licensed video content that entertains and interests the communities it serves, delivering programming to Internet-connected ...

2010-08-19

Louisville orthodontics provider Smile Zone Orthodontics is offering a summer writing competition for school-age children. The submissions will be written about "What I did this summer." Entrants need to compose at least one page and are encouraged to use humor and creativity in their writing. Entries are accepted at the practice's offices until September 15, 2010, at which point the judging will start. "We believe it's vital for youngsters to express themselves in writing," observes Louisville Damon braces specialist Dr. Jonathan Weinbach. "Writing is an essential skill ...

2010-08-19

Surging from the Atlantic Ocean, the giant botanical garden of Madeira offers a temperate sub-tropical climate perfect for year-round walking. Headwater offers both guided and independent walking holidays in Madeira. Guests on our guided walking on Madeira are based at the luxury 5-star Quinta da Bela Vista, one of the most exclusive addresses on the island, offering heated outdoor swimming pool, sauna, jacuzzi, tennis, private gardens and fine dining. A regular complimentary shuttle bus takes you to and from historic Funchal. The walking is gentle, and takes in forgotten ...

2010-08-19

Summer doesn't have to end when the kids go back to school, or when ski wear starts to replace swim wear on the shop shelves! In fact, a greater number of Headwater customers choose to travel in September/October rather than in peak season: airports are less busy, roads less crowded, prices are cheaper and hoteliers have more time for you. And of course, if you choose carefully, you can benefit from lovely temperate climates - perfect for gentle cycling - well into autumn and beyond. If you fancy the idea of travelling in September, then perhaps consider our Heart of ...

2010-08-19

If you are renting out your Aruba villa, it's vital that your rental agency gives you top service. But how do you know you're working with the best? Aruba Villa Vacation Rentals offers a free trial so property owners can see how the agency works and can list their properties risk free. "The free trial is available to any new rental properties," says Matthew Smillie, owner of Aruba Villa Vacation Rentals, an Aruba accommodation agency. "But, we particularly need rental properties - especially beach houses - in the Malmok and Palm Beach areas. These regions are in great ...

2010-08-19

Periodontal disease, or gum disease, is a bacterial infection of the gums, ligaments and bone that support the teeth and anchor them in the jaw. Usually painless until its final stages, gum disease is silent like heart disease - and can sneak up on a person. "Prevention and treatment of periodontal disease are very important because it is a chronic inflammation of your body's tissues," notes Ottawa dentist, Dr. Pamela Li. "Unfortunately, people don't take it very seriously. They think of routine dental visits as 'just a cleaning." Periodontal disease interacts with ...

2010-08-19

Carrentals.co.uk and the Highways Agency have linked up to offer UK holidaymakers the chance to enjoy their holiday in the UK safely. The Get Out More campaign by the car rental gurus is all about getting the UK public out and about more this summer for less and both companies are urging drivers to take more breaks when completing long journeys. Highways Agency and Carrentals.co.uk are offering great advise to holidaymakers across the UL in order to reduce the amount of car-related accidents. Last year a total of 37 million Brits chose to holiday at home and staycationing ...


Press-News.org - Free Press Release Distribution service.