Kredyty mieszkaniowe
Sprawdź aktualny ranking najlepszych kredytów mieszkaniowych w Polsce - atrakcyjne kredytowanie nieruchomości.
2010-08-19
Footworks Shoetique announces the opening of their new location at the Woodfield Mall in Schamburg. The occasion will commence on Saturday, August 21st during the shoetique's official grand opening celebration from 2pm- 6pm. The opening comes only a few months after the successful launch of their online store, footworks4u.com. The swanky shoetique once located in downtown Chicago moved to its new location - with a new look. The new location represents a milestone for the brand, which has undergone an intense revitalization and rebranding transformation.  "Opening the ...
2010-08-19
Dean Ogan, owner of Rocky Top Hospitality (http://www.rockytophospitality.com), has announced that the local restaurant group will participate in Downtown Raleigh Restaurant Week, a weeklong dining experience that showcases culinary talents in the Triangle. Bogart's American Grill and The Red Room Tapas Lounge will offer three-course prix fixe dinners for $20 each during the event from Monday, Aug. 23 through Sunday, Aug. 29. Reservations are recommended. Contact Downtown Raleigh Alliance at (919) 821-6972 or ellenfragola@downtownraleigh.org for more information. QUOTES: "Rocky ...
2010-08-19
DIG Coaching Practice presents Gayle Wojnar on Attention Talk Radio. Sitting in for show host and attention coach Jeff Copper, Wojnar will discuss the unexpected change in what she paid attention to and suddenly realized she had been coached. In this episode, she will share her personal experience and offer an understanding around what it is like to be coached. Gayle Wojnar is a senior-level writer, editor, consultant, and coach with more than 18 years of experience. She specializes in a variety of fields with significant emphasis in financial services Web marketing ...
2010-08-19
FlashMoto.com, one of the leading Flash content management system providers, announced the Summer End Special that started on August 16 and would be valid till the end of the summer. During this promotion, every purchaser of any FlashMoto CMS template will get it at the discount of 10%. "FlashMoto always strives for doing something that is a real feel-good event for its customers," - Demetrio Fortman, CEO of FlashMoto, says, - "During the previous promo we got so many positive feedbacks from our clients, so with this "End of Summer" special offer we would like to thank ...
2010-08-19
SuperCoolSteals.com-CEO Joe McFerrin announced the company has commenced design of an improved mobile coupon platform. The company backs its strategy on a report by Juniper Research which forecasts 300 million consumers to use mobile coupons by 2014. SuperCoolSteals will collaborate with both retailers and consumers to create the next generation coupon experience. "We already use Twitter and Facebook to broadcast coupons but we intend to improve the mobile coupon delivery further to satisfy users coming in via smart phones." says Joe McFerrin. New phones and consumer ...
2010-08-19
For John Michael Hughes, the fall of 2010 is shaping up to be a busy one. As owner of Leeco Consulting Company, LLC, John Michael Hughes serves an industry that few people consider ... until they need him. John Michael Hughes is a licensed professional insurance adjuster with more than a decade of disaster settlement experience. This empowers him to represent both individuals and commercial clients as they attempt to navigate equitable settlements through claims for losses due to hurricane, flood, mold, fire and other perils. More technically, John Michael Hughes is a public ...
2010-08-19
The positive knack in which you deal with rejection as a writer is an essential part of creating your career. Yes, easier said than done, especially with the word NO printed in black and white for you to read over and over again. Do not despair and do not become discouraged. Award-winning author and Children's Writers' Coaching Club instructor, Simon Rose is here to present his live 55-minute teleclass, "Dealing with Rejection - Part 1," on Thursday, August 19 at 8 pm CDT. Mr. Rose will discuss ways to deal with rejection, how not to take rejection personally, the many ...
2010-08-19
To drive better outcomes, the patient needs to be in the center of the care process, advises Gary Kolbeck, General Manager - LodgeNet Healthcare. By engaging patients through interactive services, nurses will have more time to spend where they are needed and people will be better informed about the medications they require, thereby reducing re-admission rates. From a solution provider company at the marcus evans National Healthcare CXO Summit Fall 2010 taking place in Las Vegas, October 24-26, Kolbeck shares his vision of how healthcare can be transformed by utilizing interactive ...
2010-08-19
Toy Collector has been teaming up once again with leading Italian diecasters Looksmart for a look back at some of Maranello's more unusual products, in a promotional blog entitled "Forgotten Ferraris". Illustrated with models from the back catalogue of Looksmart's handmade 1/43 diecast range - which includes dozens of models of Enzo's finest cars - the promotional blog will cover coachbuilt Ferraris like the Felber Ferrari beach car, showcars like the Mythos and production vehicles like the California Hard Top, as well as some of the myriad modern racing series cars ...
2010-08-19
The new integration joins together planning and production, and closes the gap between two leading systems in Radio broadcast, simplifying and accelerating workflows from story conception to broadcast and broadband/web distribution. DAVID Systems, a leading provider of global broadcast solutions, and ANNOVA Systems, a leading newsroom provider, will showcase their interoperability at IBC 2010 in Amsterdam. To deliver news faster, and to serve several distribution channels simultaneously, Radio workflows need to be integrated and provide optimized synergies from planning ...
2010-08-19
Until August 20th, exhibitors of the cinec can submit their application for the cinecAward. The jury is looking for innovations and clever solutions that save time or money or alleviate the work on set in any other way. As the only prize for motion picture technology in Germany, the cinecAward is awarded by the Bavarian Society for the Advancement of Film Technology (FGF) in seven categories: Camera Technology, Optics, Camera Support/Grip, Camera Equipment, Lighting Engineering, Postproduction/Digital Editing and the "clever idea". The prize will be awarded on September ...
2010-08-19
City-Discovery.com names its top 10 summer activities in San Francisco, selected from over 30 attractions in the Bay Area. The travel website announced that its Top 10 picks are based on customer reviews, ratings and bookings. Popular attractions include the Golden Gate Bridge, cable cars, Alcatraz, and Chinatown. Day tours in nearby attractions outside city limits, such as Wine Country, Yosemite, Muir Woods and Sausalito also found their way to the top 10. The selected activities in San Francisco are part of a series of top 10 recommended summer activities in popular ...
2010-08-19
The night shots are one of their latest productions and prelude an upcoming series of asian metropolises that was entirely shot on large format. Besides the former british colony, the photographer Thomas Birke also visited Seoul. South Koreas capital is inhabited by over 10 millionen people and offered another striking backdrop for his inspiring work. His look at the densely populated areas grants an exceptional view on the metropolises and was driven by the ambition to picture at least one thousand people or their traces within the urban landscapes. In the digital age ...
2010-08-19
SWEET BEAUTY INTRODUCES NEW TROPICAL TREAT COLLECTION TO BRING THE VACATION TO YOU All-Natural Spa-Grade Skincare that Nourishes Both the Skin and the Soul August 17, 2010 (Seattle, Wash.) - Sweet Beauty all-natural skincare is introducing its new Tropical Treat Collection - a non-stop, direct flight to warm, fragrant breezes with exotic hints of coconut and pineapple. Tropical Treat is a dreamy tropical vacation wrapped up in a lotion, body oil, sugar scrub and lip balm that will rejuvenate and soothe skin on even the most dreary of winter days. Its exotic fragrance ...
2010-08-19
SEOCompany.net has brought internet marketing to surpassing levels when it comes to web promotions. Search engine optimization refers to converting your website visitors to potential buyers by displaying you as an expert in your field and giving a substantial amount of external links that are linked back to your website on other popular sites. When it comes to Social Networking, a recent survey denotes that it is the second largest activity on the internet. SEOCompany.net fosters the viral nature of this extremely intriguing networking system and launches Social Networking ...
2010-08-19
MrTed, which recently agreed to be acquired by StepStone Solutions, is one of the world's leading providers of on-demand talent acquisition solutions. By deploying MrTedTalentLink , the Randstad Group will be able to ensure a first class, cost effective, comprehensive end-to-end delivery for its UK corporate accounts - managing the entire recruitment lifecycle in partnership with the multi-discipline and highly specialist portfolio of Randstad operating companies. Kelly Quirk, managing director of Randstad Corporate & Managed Services comments "After an extensive ...
2010-08-19
Anchor Vans has responded to an increase in demand for air conditioned used vans by adding new functionality to their award-winning website, enabling used van customers to narrow their search rapidly and view listings of air conditioned used vans within two clicks. The changes to the used van listing pages also enable used van buyers to narrow their search by fuel type, colour, transmission, mileage and price range, as well as allowing customers to look at vans with particular features such as electric windows and leather seating. For more information call 0118 9710 230 ...
2010-08-19
Average daily prices for hire cars in many of the world's most popular holiday destinations have risen by 30%, says the leading car hire price comparison company, www.carrentals.co.uk. Spain car hire is as popular as ever even though prices have gone up so much, while the reports also include a look at the prices of hire cars in Portugal and Madeira, Italy, Greece, UK, USA, Ireland, Turkey, Croatia and France. The average price per day for car rentals in Turkey this year has gone up by a massive 76% with an average price of more than GBP40. Croatia shows a hike of ...
2010-08-19
Coast Acoustics is coming to the Gold Coast next month, combining live music performances with the chance to pick up some top tips from industry experts. Taking place at Glennon Park and All Sports Community Club in Nerang on September 18th and 19th, the event promises to be a weekend of musical fun for all the family to enjoy. A number of bluegrass, blues and folk and roots artists have been lined up to play to guests at Gold Coast hotels across the two days, with the likes of Mick McHugh, the Stetson Family, Coolgrass and the Hillbillygoats all set to perform on ...
2010-08-19
World Tourism Day is being held in China this year, but that won't stop the locals in Langkawi from celebrating the annual occasion. Guangdong Province will host the official event on September 27th 2010, with officials at the UN World Tourism Organisation (WTO) declaring this year's theme to be 'tourism and biodiversity'. Secretary general of the UNWTO Taleb Rifai explained back in March that the two subjects which make up the theme are reliant on each other. "UNWTO wishes to raise awareness and calls upon the tourism stakeholders and travellers themselves to ...
2010-08-19
The paradise island of Bali will play host to the seventh Asian regional conference of the International Industrial Relations Association (IIRA) towards the end of next month. Attendees of the event, which runs between September 20th and 23rd 2010, will flock to the Sanur Beach, Bali venue - close to a number of Seminyak hotels - to hear keynote speeches from a number of high-ranking officials. Indonesian vice president Dr Boediono will be one of the government representatives to speak at the conference, which has been given the theme "Industrial Democracy, Partnership ...
2010-08-19
A host of famous tennis stars are set to take to the courts in Kuala Lumpur towards the end of next month as they battle it out in the Malaysian Open. The tournament runs between September 25th and October 3rd 2010, but a number of big-name pros - including the likes of Robin Soderling, Tomas Berdych, Nikolay Davydenko, David Ferrer and Lleyton Hewitt - have already confirmed they will be appearing. All of them will be competing to reach the final at the Putra Stadium in Bukit Jalil, where they are set to be greeted by up to 7,000 fans on centre court. If the words ...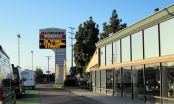 2010-08-19
Joe Altman, president of Altmans Winnebago, announced today that while Altmans will be continuing its normal retail sales, service, rentals, and parts operation in Carson, California, its location in Colton, California would be closing its doors. "We have made the difficult decision," said Altman, "to suspend our operations and close our store at the American RV Expo in Colton. It's been over two years since this serious economic downturn began and our efforts to maintain an adequate sales volume have not been sufficient to sustain profitability." Altman also stated ...
2010-08-19
More Bedroom Sets, one of the leading online retailers of bedroom set items and bedroom furniture, is offering consumers free shipping and no taxes on select items until August 23, 2010. These items range from bedroom furniture set pieces, to platform beds and cribs. In addition to this special offer, MoreBedroomSets' list prices are lower than other retailers, both on and offline. MoreBedroomSets also has two different ways to purchase products online: by secure checkout with credit card or by PayPal. Phone orders are also accepted.About MoreBedroomSets.com More Bedroom ...
2010-08-19
More Platform Beds, one of the leading online retailers of platform beds, is announcing free shipping and no tax until August 23, 2010 on select furniture and accessories. During this sale you will find reduced pricing on baby cribs, platform bedroom sets, cribs, desks and more. In addition to this special offer, More Platform Beds' list prices are lower than other retailers, both on and offline. MorePlatformBeds also has two different ways to purchase their products online: by secure checkout with credit card or by PayPal. Phone orders are also accepted. About MorePlatformBeds: More ...