2010-11-23
Frequent hemodialysis improved left ventricular mass (heart size) and self-reported physical health compared to conventional hemodialysis for kidney failure, according to the Frequent Hemodialysis Network (FHN) Daily Trial funded by the National Institutes of Health and the Centers for Medicare & Medicaid Services. Results were published online Nov. 20, 2010, in the New England Journal of Medicine to coincide with a presentation at the American Society of Nephrology meeting in Denver. Six hemodialysis treatments per week improved left ventricular mass and physical health ...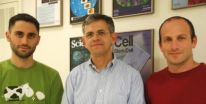 2010-11-23
Jerusalem, November 21, 2010 – Research work carried out at the Hebrew University of Jerusalem arouses a cautionary warning in the growing field of the development of stem cells as a means for future treatment of patients through replacement of diseased or damaged tissues by using the patient's own stem cells. The research indicates a possible danger of cancerous tissue development in the use of such cells. Embryonic stem cells, which are undifferentiated cells, have the potential to develop into all cell types of the adult body, and thousands of researchers all over ...
2010-11-23
An international group of scientists, including researchers at the Medical Research Council (MRC), has discovered 30 genes that control the age at which girls reach sexual maturity. They found that many of the genes responsible for puberty also play a strong role in how the body metabolises fat, establishing new biological links between going through puberty at a young age and being at increased risk of obesity. This knowledge will help to explain why girls in some families are more likely to go through puberty at an early age, and may eventually help to prevent chronic ...
2010-11-23
Leading scientists and marine managers have called for a greater national effort to protect vital 1000-kilometre stretches of ocean bordering the middle of Australia's eastern and western coastlines. In a major statement entitled The Coffs Harbour Subtropical Reefs Declaration, they urge increased focus and better management for reefs south of the Great Barrier Reef and WA tropical coral zone, explaining that these more southerly areas are expected to become critical refuges for northern tropical marine life under global warming. The declaration follows a workshop by ...
2010-11-23
"We demonstrate that human age can be estimated from blood with reasonable accuracy using a simple, robust, and sensitive test assay," said Manfred Kayser of the Erasmus MC University Medical Center Rotterdam in the Netherlands. "Our method is applicable in situations where only bloodstains are available, which covers a large proportion of crime cases." The method will be especially useful in forensic cases in which age information is important to provide investigative leads for finding unknown persons, Kayser added. Existing methods for age estimation have limited use ...
2010-11-23
A pilot trial showed that a six-month exercise training program designed to increase leg strength, leg flexibility and overall fitness may improve post-thrombotic syndrome, a frequent, chronic complication of deep vein thrombosis, states a research article in CMAJ (Canadian Medical Association Journal) (pre-embargo link only) http://www.cmaj.ca/embargo/cmaj100248.pdf Chronic post-thrombotic syndrome develops in up to one half of patients with deep vein thrombosis (DVT). These patients can experience leg pain, heaviness, swelling, water retention, hyperpigmentation and ...
2010-11-23
A new evidence-based clinical practice guideline will help doctors, healthcare providers and parents reduce the pain and distress of immunization in children, states an article in CMAJ (Canadian Medical Association Journal) (pre-embargo link only) http://www.cmaj.ca/embargo/cmaj092048.pdf. Immunization injections are the most common source of physician-induced pain in childhood and are given many times to most Canadian children. Pain from vaccine injections needs to be addressed at an early age to avoid needle fears and anxiety at future procedures, and non-compliance ...
2010-11-23
Richmond, Va. (Nov. 22, 2010) – Researchers at Virginia Commonwealth University have discovered that a gene well known for its involvement in tumor cell development, growth and metastasis also protects cancer cells from being destroyed by chemotherapy. By inhibiting the expression of this gene, doctors may have a new viable and effective approach for treating aggressive cancers such as breast, liver and prostate carcinomas, malignant gliomas and neuroblastomas that result from high expression of this cancer-promoting gene. The new study was reported the week of Nov. 22 ...
2010-11-23
A new study reveals that muscle cells fuse together during development by poking "fingers" into each other to help break down the membranes separating them. The study appears online on November 22, 2010 in the Journal of Cell Biology(www.jcb.org). During muscle development, individual muscle cells fuse together to form long myotubes containing multiple cell nuclei. In the fruit fly Drosophila melanogaster, fusion occurs between two different types of muscle cell: founder cells and fusion-competent myoblasts. Using electron microscopy to analyze developing fly embryos, ...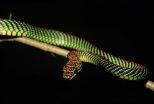 2010-11-23

WASHINGTON, D.C., November 22, 2010 -- Five related species of tree-dwelling snakes found in Southeast and South Asia may just be the worst nightmares of ophidiophobes (people who have abnormal fears of snakes). Not only are they snakes, but they can "fly" -- flinging themselves off their perches, flattening their bodies, and gliding from tree to tree or to the ground. To Virginia Tech biologist Jake Socha, these curious reptiles are something of a biomechanical wonder. In order to understand how they do what they do, Socha and his colleagues recently studied Chrysopelea ...

2010-11-23

Boston, Mass. – Medulloblastomas are the most common malignant brain tumors of childhood, with 40 to 50 percent overall mortality. One of the greatest challenges in treating them is that they vary substantially from patient to patient. In the largest genomic study of human medulloblastomas to date, researchers from Children's Hospital Boston, together with collaborators, have identified six subtypes with distinct molecular "fingerprints" that will improve doctors' ability to direct and individualize treatment. The study, reported online November 22nd in the Journal of ...

2010-11-23

Black, Asian, and Native American children are more likely than white and Hispanic children to die after being treated for neuroblastoma, according to new research on the pediatric cancer. The study, of more than 3,500 patients with the disease, is the largest ever to look at racial disparities in risk and survival for the most common solid cancer found in young children. The study also found that black and Native American children are more likely to have the high-risk form of the disease and show signs of resistance to modern treatment. Those biological characteristics ...

2010-11-23

Beta-thalassemia is an inherited blood disorder that results in chronic anemia. A major complication of the condition is iron overload, which damages organs such as the liver and heart. The iron overload has been linked to low levels of the protein hepcidin, a negative regulator of intestinal iron absorption and iron recycling. A team of researchers, led by Stefano Rivella, at Weill Cornell Medical College, New York, has now shown that increasing the concentration of hepcidin in beta-thalassemic mice limits iron overload and markedly reduces their anemia. They therefore ...

2010-11-23

Children who experience a parental divorce are over twice as likely to suffer a stroke at some point in their lives, according to new research presented in New Orleans at The Gerontological Society of America's (GSA) 63rd Annual Scientific Meeting. This finding is based on a representative community sample of over 13,000 people from the 2005 Canadian Community Health Survey. The data analysis was conducted by Esme Fuller-Thomson, PhD, and a team of colleagues at the University of Toronto. "We were very surprised that the association between parental divorce and stroke ...

2010-11-23

When using combined positron emission tomography (PET) computed tomography (CT) imaging, adopting a true whole-body field of view in the imaging of cancer patients could lead to more accurate staging and restaging than achieved with the routinely used limited whole-body field of view, according to a study in the December issue of the American Journal of Roentgenology (www.ajronline.org). PET/CT is a dual imaging technique that is used to diagnose and treat a variety of diseases, including many types of cancers. "Use of the routine field of view for whole-body FDG PET/CT ...

2010-11-23

CAMBRIDGE, Mass. — More than half of all combat-related injuries sustained by U.S. troops are the result of explosions, and many of those involve injuries to the head. According to the U.S. Department of Defense, about 130,000 U.S. service members deployed in Iraq and Afghanistan have sustained traumatic brain injuries — ranging from concussion to long-term brain damage and death — as a result of an explosion. A recent analysis by a team of researchers led by MIT reveals one possible way to prevent those injuries — adding a face shield to the helmet worn by military personnel. In ...

2010-11-23

High blood levels of the antioxidant alpha-carotene appear to be associated with a reduced risk of dying over a 14-year period, according to a report posted online today that will be published in the March 28 print issue of Archives of Internal Medicine, one of the JAMA/Archives journals. Oxygen-related damage to DNA, proteins and fats may play a role in the development of chronic diseases like heart disease and cancer, according to background information in the article. Carotenoids—including beta-carotene, alpha-carotene and lycopene—are produced by plants and microorganisms ...

2010-11-23

Diabetes appears to be associated with the risk of depression and vice versa, suggesting the relationship between the two works in both directions, according to a report in the November 22 issue of Archives of Internal Medicine, one of the JAMA/Archives journals. An estimated 23.5 million U.S. adults—more than 10 percent—have diabetes, including 23 percent of those ages 60 and older, according to background information in the article. Major depressive disorder affects about 14.8 million U.S. adults each year. "Although it has been hypothesized that the diabetes-depression ...

2010-11-23

Dual antiplatelet therapy—treatment with the medications clopidogrel and aspirin together to prevent blood clots—poses a clinically significant risk of hemorrhage that should be considered before prescribing, according to a report in the November 22 issue of Archives of Internal Medicine, one of the JAMA/Archives journals. Dual antiplatelet therapy with clopidogrel plus aspirin is commonly used to prevent blood clots in patients with cardiovascular disease, according to background information in the article. The treatment has demonstrated a benefit in reducing the formation ...

2010-11-23

Lower-income families in high-deductible health plans appear more likely to delay or forgo medical care based on cost than higher-income families with similar coverage, according to a report in the November 22 issue of Archives of Internal Medicine, one of the JAMA/Archives journals. However, lower-income families did not report any more troubles understanding or using their plans. "In the midst of the current economic downturn, many Americans are paying more for their health care," the authors write as background information in the article. "One way in which a growing ...

2010-11-23

Introducing a music-based multitask exercise program for community-dwelling elderly people may lead to improved gait (manner or style of walking), balance and a reduction in the rate of falling, according to a report posted online today that will be published in the March 28 print issue of Archives of Internal Medicine, one of the JAMA/Archives journals. "Each year, one-third of the population 65 years and older experiences at least one fall, and half of those fall repeatedly," the authors write as background information in the article. "Exercise can counteract key risk ...

2010-11-23

A patient education program combining videos with one-on-one follow-up did not appear to reduce the risk of falls among all older hospital patients, but was associated with fewer falls among patients who were not cognitively impaired, according to a report posted online today that will be published in the March 28 print issue of Archives of Internal Medicine, one of the JAMA/Archives journals. "Falls are a leading patient safety incident event in general hospitals and are especially common in older patients," the authors write as background information in the article. ...

2010-11-23

EDITOR'S PICK: Who is in your poo? Working with mice and human patients, Eric Pamer, Carles Ubdea, and colleagues, at Memorial Sloan-Kettering Cancer Center, New York, have generated data that suggest that high-throughput DNA sequencing of bacteria in the gut could identify patients at high-risk of life-threatening bloodstream infection with the antibiotic-resistant bacterium vancomycin-resistant Enterococcus (VRE). Bacterial infections acquired as a result of treatment in a hospital or health-care unit kill approximately 100,000 people a year in the US. Many of these ...

2010-11-23

People who have an allotment, especially those aged over 60, tend to be significantly healthier than those who do not. Researchers writing in BioMed Central's open access journal Environmental Health have shown that the small gardens were associated with increased levels of physical activity at all ages, and improved health and well-being in more elderly people. Agnes van den Berg, from Wageningen University and Research Centre, the Netherlands, worked with a team of researchers to carry out a study into the health benefits of allotment gardening. She said, "Taken together, ...

2010-11-23

The U.S. death rate from congenital heart defects dropped 24 percent from 1999 to 2006 among children and adults, according to research reported in Circulation: Journal of the American Heart Association. A congenital heart defect was the underlying cause of 27,960 deaths — an age-standardized rate of 1.2 deaths per 100,000 people — based on data from death certificates. In a comparable study published in Circulation in 2001, deaths due to congenital heart defects dropped 39 percent from 1979 to 1997. Congenital heart defects are structural abnormalities of the heart ...


Press-News.org - Free Press Release Distribution service.