2010-09-17
CLEVELAND – September 16, 2010 – Menachem Shoham, PhD, associate professor and researcher in the department of biochemistry at the Case Western Reserve University School of Medicine, has identified new anti-pathogenic drugs that, without killing the bacteria, render Methicillin Resistant Staphylococcus Aureus (MRSA) harmless by preventing the production of toxins that cause disease. Infections of MRSA are a growing public health problem causing 20,000 deaths per year in the U.S. alone. MRSA is the most prevalent bacterial pathogen in hospital settings and in the community ...
2010-09-17
Irvine, Calif., Sept. 16, 2010 — UC Irvine researchers have deciphered how lowly fruit flies bred to rapidly develop and reproduce actually evolve over time. The findings, reported in the Sept. 15 online issue of Nature, contradict the long-held belief that sexual beings evolve the same way simpler organisms do and could fundamentally alter the direction of genetic research for new pharmaceuticals and other products. "This is actually decoding the key DNA in the evolution of aging, development and fertility," said ecology & evolutionary biology professor Michael Rose, ...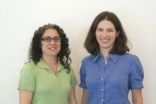 2010-09-17

COLUMBIA, Mo. -- Instead of heading to the coast for vacation, people are traveling to Tornado Alley. The number of people registering to get a closer look at tornadoes is growing as vacationers trade in their beach towels for a ride with storm chasers. Labeled "Tornado Tourists" by a University of Missouri research team, these travelers are searching for an experience beyond just thrills. Sonja Wilhelm Stanis and Carla Barbieri, associate professors in the School of Natural Resources Department of Parks, Recreation and Tourism in the MU College of Agriculture, Food ...

2010-09-17

CORVALLIS, Ore. – Researchers at Oregon State University have reported the successful loading of biological molecules onto "nanosprings" – a type of nanostructure that has gained significant interest in recent years for its ability to maximize surface area in microreactors. The findings, announced in the journal Biotechnology Progress, may open the door to important new nanotech applications in production of pharmaceuticals, biological sensors, biomedicine or other areas. "Nanosprings are a fairly new concept in nanotechnology because they create a lot of surface area ...

2010-09-17

The world will need to make substantial reductions in greenhouse gas emissions below current levels over the next few decades if the worst impacts of dangerous climate change are to be avoided. This was a key conclusion from UK and US climate scientists at an international workshop on the UK AVOID program in Washington, DC exploring the most policy-relevant aspects of understanding dangerous climate change. Latest results from AVOID have shown that strong mitigation action to limit temperature rise to below 2 °C avoids many of the climate impacts, but not all of them. ...

2010-09-17

A team of environmental engineers, who might better be called "archeologists of the air," have, for the first time, isolated aerosol particles in near pristine pre-industrial conditions. Working in the remote Amazonian Basin north of Manaus, Brazil, the researchers measured particles emitted or formed within the rainforest ecosystem that are relatively free from the influence of anthropogenic, or human, activity. The finding, published in a paper in the Sept. 17 issue of the journal Science, could provide crucial clues to understanding cloud formation, determining the ...

2010-09-17

Berkeley — Girls in homes without a biological father are more likely to hit puberty at an earlier age, according to a new study led by researchers at the University of California, Berkeley's School of Public Health. The findings, to be published Sept. 17 in the Journal of Adolescent Health, found that the absence of a biologically related father in the home predicted earlier breast and pubic hair development, but only for girls in higher income households. The findings held even after the girls' weight was taken into account. "The age at which girls are reaching ...

2010-09-17

Kids Wish Network (http://kidswishnetwork.org) founder Shelley Breiner announces the Brad Paisley Corvette Dream Giveaway. Driven by his passion for kids and cars, Brad Paisley teams up with Kids Wish Network and their Corvette Dream Giveaway program to give away two Corvettes. Proceeds help benefit the Kids Wish Network's Hero program to bring joy to children in crisis nationwide. In addition to being passionate about helping children, Brad Paisley has always been passionate about cars, particularly Corvettes. So, when Kids Wish Network offered him the chance to combine ...

2010-09-17

For every win after home running win, the song kept fans on the edges of their seats in Tropicana Field as they cheered their home team onto a captivating season. Now as the Rays battle with the New York Yankees for first place position, St. Petersburg native and lifelong Rays fan Cristol turns the momentum up to the maximum with "It's Our Season 2010 Remix" in hopes of stimulating the team back into the number one spot. Featuring fellow rappers Big Gill and Bay Boi, the newest version of the song is even more dynamic with added lead guitar riffs and amped-up production. "The ...

2010-09-17

Users of popular Android phones now have the means to easily back-up and share their phone content with the PC thanks to a new software. FutureDial Incorporated announced today its launch of its FutureDial Suite PC Software for Android Phones. The new PC software is compatible with popular Android phone models like the Google Nexus One, HTC EVO 4G, HTC DROID Eris, HTC G1, HTC Hero, HTC DROID Incredible, HTC MyTouch 3G, Motorola BackFlip, Motorola Cliq, Motorola Cliq XT, Motorola DROID, Motorola Devour, Samsung Moment and Samsung Behold II. More phones are being added ...

2010-09-17

Early exposure to reading comprehension questions and awareness of story details strengthens a child's ability to process what they read. Children become better readers as they practice making connections with what they read. A child does not automatically apply personal experiences and connect to prior knowledge when reading. The more a child practices reading comprehension skills the better prepared they will be to digest more complex subject matter with understanding. Reading discussions during the preschool years and beyond hone a child's active reading skills. It ...

2010-09-17

Bachata Reno, LLC, a leading bachata event company owned by Rodney Rodchata Aquino and BB of Salsa Reno, is pleased to announce today, "Reno Is Bachata, " the 3rd Reno International Bachata Festival to be held at Silver Legacy Resort and Casino. "In celebration of 3-years of providing the best bachata events, and as well as the first in US history to organize a bachata festival, we are proud to announce that 3-times always a charm, and that's what the 3rd Reno International Bachata Festival is all about," said Rodney Rodchata Aquino, founder and co-owner of Bachata Reno. "The ...

2010-09-17

CloudLinux is an operating system that integrates with a variety of service types. It is is designed to allow for user isolation in a shared hosting environment. This allows for a more efficient use of server resources. Additionally, PacificHost added Memcached which is a distributed memory object caching system. This speeds up dynamic web applications by alleviating database load. The CloudLinux software effectively creates a virtual environment for every hosting account. By doing this it prevents any specific user from using all the server resources at any one time. ...

2010-09-17

The Bimini Boatyard (BBY) was first usher into the Fort Lauderdale dining scene scape in September of 1989. A lot has happened in the world since the time of its opening. Remember the fall of the Berlin Wall? The reins of this lengthy journey have been taken on by chef and cookbook author-Michael Bennett, once acknowledged by the American Culinary Federation as Chef of the Year -1995. Today the BBY is best-known for its exciting and wildly popular "Caribb-ican" menu, value-based wines and the best Happy Hour in Fort Lauderdale. Like BBY's menu, the wine list selections ...

2010-09-17

Gerald Carter, director of engineering for Likewise, will bring his expertise on managing and securing mixed networks to two technical conferences this Fall -- presenting "Scaling Likewise-CIFS Beyond 50K Concurrent Connections on a Single Node" at the Storage Developer Conference (SDC), and "Linux Multi-tenant File Servers using Likewise-CIFS" at the Linux Plumber's Conference (LPC). Carter is Likewise's project lead for Likewise Open, and was a member of the Samba core development team for more than a decade. Carter has been developing, writing about, and teaching ...

2010-09-17

Throughout history, entrepreneurs have always been at the forefront of our economic recoveries and subsequent expansions. As we continue through a period of stagnant growth, the key to revitalizing our economy is embedded in our entrepreneurs. That is why Creative Capital Group is offering one innovative entrepreneur the opportunity to take their vision to reality - for FREE! We will select one entrepreneur to receive a complete start-up package that includes a business plan, corporate website, marketing campaign and start-up strategy sessions all aimed at providing ...

2010-09-17

Digital Map Products (DMP), a leading provider of cloud-based spatial technology solutions, today announced an extensive update of the parcel boundary data available through ParcelStream and the company's commitment to expanding its parcel boundary data coverage. Further, Digital Map Products sees demand for parcel boundary data continuing to grow as more applications incorporate interactive mapping capabilities and require the most accurate locations possible. "Digital Map Products has been collecting and aggregating parcel data for more than a decade, "Digital Map ...

2010-09-17

Seven Farella Braun + Martel LLP practices earned top rankings in the inaugural publication of the U.S. News Media Group and Best Lawyers 2010 Best Law Firms rankings. Achieving a high ranking is a special distinction that signals a unique combination of excellence and breadth of expertise. These inaugural rankings are presented in tiers both nationally and by metropolitan area or by state. They are posted online at http://www.usnews.com/bestlawfirms; the national first-tier rankings will be featured in the October print issue of U.S. News & World Report, which will ...

2010-09-17

Spotlight 29 Casino has announced they will be showing the Shane Mosley vs. Sergio Mora fight on Saturday, September 18th, casino-wide. Coverage of the fight starts at 6pm (PST). The fight, "200: CELEBRATE AND DOMINATE," is being held over Mexican Independence Day weekend, marking a nearly four-decade-long tradition of Mexican and Mexican American fighters representing their people on the Mexican Independence Day holiday weekend. Spotlight 29 Casino has over 40 high-definition televisions that are situated throughout the entire casino. Guests will be able to watch ...

2010-09-17

Voyage Home Loans donated $480 worth of school supplies to 60 third grade students of Freeport Elementary School of Sacramento on Friday, September 10. Each student received a binder and a goody bag full of school supplies, which included scissors, colored pencils, crayons, watercolor sets, a highlighter, a glue stick, a ruler, four pencils and four erasers. They also provided each of the three third grade classrooms with notebook paper, copy paper, colored paper, tissues, and alcohol-free hand sanitizer. "It was wonderful! The students were very surprised when ...

2010-09-17

Village Kid have won the grand prize in their category at the international "John Lennon Songwriting Contest", for their song "Colourful Girl in a Black and White World". Village Kid have won a US$6,000 prize package, including US$5,000 of studio equipment, and are now in the running for the US$20,000 "Song Of The Year" award. The song can be purchased online at http://whotune.com/Village_Kid. The John Lennon Songwriting Contest was founded in 1997 by Lennon's wife Yoko Ono, in collaboration with a music management company based in New York. Judges included Fergie from ...

2010-09-17

Does your small business practice / firm need an IT or Network Support? Your business more and more depends on your computers and servers to work flawlessly. Your email should be virus and spam free and your communications need to be instant. Your practice server and workstations should run fast and you don not need to worry about why your employee can not login or why the customer / client record can not be located anywhere on the server. You simply need be able to relax and let IT Support firm to worry about your IT environment and computer systems. The IT Support ...

2010-09-17

Pet Porte is anticipated to be the number 1 gift this Christmas 2010 for cat lovers. About half of households have a cat as a pet, and with Pet Porte, a high tech microchip cat flap, those kitties will own their very own 'key to the door'. The problem with other cat flaps is the stress of being invaded by other intruder cats! Not only do these pesky cats get into your home, but they often want to eat your own cat's food.. how rude! Even worse, if a stray tom cat gets into your house, they are quite likely to spray! Yes, I know, revolting. Your darling little pet cat ...

2010-09-17

Warner Norcross & Judd LLP has been ranked one of the "Best Law Firms" by Best Lawyers and U.S. News & World Report. The inaugural edition of the awards, which were released today, recognized three Warner Norcross offices for excellence in 19 practice areas. Criteria for inclusion included firm practice areas, expertise, responsiveness, integrity, litigation and major legal matters, cost-effectiveness, pro-bono commitment, diversity and others. Best Lawyers, which also produces the industry's leading annual peer review of attorneys, teamed with U.S. News & World Reports ...

2010-09-17

Peterson Ray & Company, a leading communications design firm founded in 1985 and headquartered in Dallas, Texas, today announced the launch of its new website http://www.peterson.com. The site reflects the diversity of PR&C's corporate business-to-business, non-profit and education marketing expertise. Completely revamped, peterson.com now delivers a more complete user experience for visitors seeking design and marketing services. The intuitive layout features information about industry trends, insights into design and marketing, and real-world creative executions ...


Press-News.org - Free Press Release Distribution service.