2010-10-01
Ethnicity is a contributing risk factor of cardiovascular problems in kidney recipients of South Asian origin post-transplant, according to a study appearing in an upcoming issue of the Clinical Journal of the American Society Nephrology (CJASN). South Asians comprise 25% of all Canadian visible minorities and have a higher risk for cardiovascular disease in the general population. However, the risk of cardiovascular events has never been studied in this minority population. To investigate, G.V. Ramesh Prasad, MBBS, MSc, FRCPC, FACP, FASN (University of Toronto) and ...
2010-10-01
A North Carolina State University researcher is part of a team that has discovered fossilized feathers from a giant penguin that lived near the Equator more than 36 million years ago. These feathery fossils reveal color patterns in an ancient extinct penguin species, and offer clues to how modern penguin feathers evolved. The penguin in question – dubbed Inkayacu paracasensis, or Water King – dates from the late Eocene period and stood almost five feet tall. The fossil was discovered near the Paracas Reserve, located along the eastern coastline of Peru. A research team ...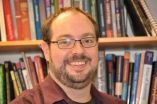 2010-10-01
COLUMBIA, Mo.– It might seem obvious that a dinosaur's leg bone connects to the hip bone, but what came between the bones has been less obvious. Now, researchers at the University of Missouri and Ohio University have found that dinosaurs had thick layers of cartilage in their joints, which means they may have been considerably taller than previously thought. The study is being published this week in the journal PLoS ONE (Public Library of Science). "Our study of the limbs of modern-day relatives of dinosaurs shows that dinosaurs were significantly taller than original ...
2010-10-01
CAMBRIDGE, Mass. -- MIT researchers and collaborators from Tufts University have now engineered E. coli bacteria to produce large quantities of a critical compound that is a precursor to the cancer drug Taxol, originally isolated from the bark of the Pacific yew tree. The tree's bacteria can produce 1,000 times more of the precursor, known as taxadiene, than any other engineered microbial strain. The technique, described in the Oct. 1 issue of Science, could bring down the manufacturing costs of Taxol and also help scientists discover potential new drugs for cancer and ...
2010-10-01
1st October 2010 - The Culex quinquefasciatus mosquito poses a significant threat to human health as a blood-sucking transmitter of elephantiasis-causing worms and encephalitis-inducing viruses. An international team of scientists, including researchers from the University of Geneva and the SIB Swiss Institute of Bioinformatics sequenced its genome and studied its responses to pathogen infections. Two articles published in today's issue of Science, describe results from comparing the Culex mosquito with the malaria mosquito, Anopheles gambiae, and the dengue mosquito, Aedes ...

2010-10-01

The role of a key nutrient which prevents cataracts in salmon has been revealed by eye specialists at the University of East Anglia. Research published today in the American Journal of Physiology - Regulatory, Integrative and Comparative Physiology shows how the nutrient histidine, when added to the diet of farmed salmon, stops cataracts (clouding of the lens in the eye) from forming. Following fears over BSE in the early 1990s, blood meal was removed from the diet of farmed salmon. This coincided with a large increase in the incidence of cataracts which cause economic ...

2010-10-01

CAMBRIDGE, Mass. -- When it comes to intelligence, the whole can indeed be greater than the sum of its parts. A new study co-authored by MIT, Carnegie Mellon University, and Union College researchers documents the existence of collective intelligence among groups of people who cooperate well, showing that such intelligence extends beyond the cognitive abilities of the groups' individual members, and that the tendency to cooperate effectively is linked to the number of women in a group. Many social scientists have long contended that the ability of individuals to fare ...

2010-10-01

TORONTO, Ont., September 30, 2010 — South Asian men and women have more than twice the risk of suffering a heart attack after a kidney transplant, according to a study led by St. Michael's nephrologist Dr. Ramesh Prasad. The study, published today in the Clinical Journal of the American Society of Nephrology, studied 864 patients who underwent a transplant between 1998 and 2007. Researchers analyzed and compared the group's risk for a heart attack, angioplasty and bypass surgery rates, and death from heart disease after a kidney transplant with Caucasian, black and East ...

2010-10-01

Women in South Africa who underwent human papillomavirus (HPV) DNA-based testing or visual inspection of the cervix followed by treatment of test-positive women with cryotherapy had a statistically significant reduction in high grade cervical cancer precursors, compared with women in a control group, according to a study published online Sept. 30 in The Journal of the National Cancer Institute. In many developing countries, especially in sub-Saharan Africa, cytology-based screening is unavailable. To counter this lack of availability, non-cytological screening methods ...

2010-10-01

GALVESTON, Texas — An international research team has determined the DNA sequence of the mosquito species whose bite transmits West Nile virus, St. Louis encephalitis virus and the microscopic worm responsible for elephantiasis. University of Texas Medical Branch at Galveston researchers played a vital part in the push to sequence the genome of Culex quinquefasciatus, applying expertise gained through more than a decade of studying the mosquito species and the viruses it spreads. The UTMB scientists collaborated with researchers at 38 other institutions on the project, ...

2010-10-01

PHOENIX, Ariz. — Sept. 30, 2010 — DNA methylation — a modification of DNA linked to gene regulation — is altered with increasing severity in a blood cancer called multiple myeloma, according to a study by Mayo Clinic and the Translational Genomics Research Institute (TGen). And at specific points of DNA, "global hypomethylation," in which many genes lose the modification, may be associated with the step-by-step development of myeloma, according to a scientific paper published this month in the journal Cancer Research. "This is the first study to show that hypomethylation ...

2010-10-01

Italian researchers report that liver transplant candidates who have a strong religious connection have better post-transplant survival. This study also finds that religiosity—regardless of cause of death—prolongs the life span of individuals who underwent liver transplantation. Full findings are now available online and in the October issue of Liver Transplantation. a journal published by Wiley-Blackwell on behalf of the American Association for the Study of Liver Diseases (AASLD). Much of the medical profession today is focused on the delivery of services, rather than ...

2010-10-01

An Australian study of identical twins shows that a rare genetic form of epilepsy can be caused by a genetic mutation that occurs in the embryo, and not necessarily passed down from parents. The study was led by the University of Melbourne and Austin Health and published in the New England Journal of Medicine. Professor Berkovic, Director of the Comprehensive Epilepsy Program at Austin Health and Epilepsy Research Centre at the University of Melbourne and lead investigator on the study said this is an exciting finding revealing how a mutation in the embryo can cause ...

2010-10-01

Philadelphia, PA, 30 September, 2010 - There is growing evidence that two neurotransmitters - dopamine and glutamate - are abnormal in people with psychotic illness, including schizophrenia. Among many other things, these chemicals play a role in cognitive functions, such as memory, learning, and problem-solving. A new study in Biological Psychiatry is now the first to examine the relationship between these two brain chemicals by measuring both in the same individuals. Dr. James Stone and colleagues studied people with sub-threshold psychotic symptoms, who were at ...

2010-10-01

New research has linked psychosis with an abnormal relationship between two signalling chemicals in the brain. The findings, published in tomorrow's edition of the journal Biological Psychiatry, suggest a new approach to preventing psychotic symptoms, which could lead to better drugs for schizophrenia. Schizophrenia is one of the most common severe mental health conditions. Sufferers experience symptoms of psychosis – an inability to distinguish between reality and imagination – such as hallucinations and delusions. The condition tends to begin in the late teens or twenties, ...

2010-10-01

If you are one of the millions of Americans with high blood pressure, more help is on the way. That's because a new research study published in the October 2010 print issue of The FASEB Journal (http://www.fasebj.org) shows that a protein, called P450, metabolizes arachidonic acid in our blood vessel walls to create a tiny molecule with a big name—epoxyeicosatrienoic acid (EET)—which in mice, turns off genes responsible for vascular inflammation and ultimately relaxes blood vessels to lower blood pressure. This protein and genes are also present in humans. "We hope these ...

2010-10-01

A new report published in the October 2010 print issue of The FASEB Journal (http://www.fasebj.org) offers a ray of hope in the search for new cancer drugs. By examining the seemingly conflicting roles of how oncogenes and tumor suppressor genes handle cellular stress, scientists from the Institute for Advanced Studies in New Jersey argue that each of these opposing systems could be potent drug targets in the effort to stop cancer. In addition, their hypothesis provides new insights into what contributes to immunological disorders such as chronic inflammation and autoimmune ...

2010-10-01

A new research report in the October 2010 print issue of the Journal of Leukocyte Biology (http://www.jleukbio.org) sheds important light on how our immune systems detect invading organisms to be destroyed and removed from our bodies. The information from this research should ultimately help lead to the development of new drugs and treatments that allow health care providers to prevent runaway immune reactions that can have devastating consequences for people. "Our study helps us to understand exactly how the immune system is activated when it comes across infection ...

2010-10-01

An experimental vaccine intended to prevent genital herpes disease in women, although generally safe and well-tolerated, proved ineffective when tested in the recently concluded clinical study known as the Herpevac Trial for Women. The Phase 3 trial, sponsored by GlaxoSmithKline (GSK) Biologicals, based in Belgium, with support from the National Institute of Allergy and Infectious Diseases (NIAID), part of the National Institutes of Health, began in 2002. A total of 8,323 women aged 18-30 years participated in the trial at 50 sites in the United States and Canada. At ...

2010-10-01

The landmark breast cancer screening study of women 40-49, published online in Cancer, has proven that annual mammography screening of women in their 40s reduces the breast cancer death rate in these women by nearly 30 percent. The results of this largest study ever conducted on women in this age group confirm that the use of the age of 50 as a threshold for breast cancer screening is scientifically unfounded. Women should begin getting annual mammograms at age 40. "This study, which looked at the performance of screening mammography as it is actually used, rather than ...

2010-10-01

Characteristics such as patient engagement, physician communication, and staff coordination may help to explain why some dialysis centers achieve higher patient survival rates than others, according to a study appearing in an upcoming issue of the Clinical Journal of the American Society of Nephrology (CJASN). "The purpose of this study was simple: to figure out what top-performing dialysis units might be doing differently from bottom-performing units, and to translate those findings into a blueprint for action," comments Brennan M.R. Spiegel, MD, MSHS (VA Greater Los ...

2010-10-01

BOSTON –By creating a "map" of histone modifications in fat cells, investigators have discovered two new factors that regulate fat formation, a key step on the road to better understanding obesity, diabetes and other metabolic disorders. Led by investigators at Beth Israel Deaconess Medical Center (BIDMC) and the Broad Institute, the study appears in the October 1 issue of the journal Cell. "These findings help to demonstrate the power of epigenomic mapping when it comes to gleaning key insights into fat cell formation," explains senior author Evan Rosen, MD, PhD, an ...

2010-10-01

People with impaired kidney function are at a higher risk of future stroke than people with normal kidney function, concludes a study published on bmj.com today. A second study, also published today, finds that even the earliest stages of chronic kidney disease are linked to a higher risk of coronary heart disease. This study suggests that considering signs of early kidney disease, in addition to routinely measured risk factors such as blood pressure and blood cholesterol, modestly improves the identification of people at high risk of cardiovascular disease. It provides ...

2010-10-01

A strategy to encourage single embryo transfer after in vitro fertilisation (IVF) could be an important tool to prevent multiple pregnancies and their associated complications, finds a study published on bmj.com today. Deciding how many embryos should be transferred after IVF is a complex problem. The transfer of only one embryo will prevent a multiple pregnancy and the risk of complications for mother and baby, but could require more cycles to achieve pregnancy. Although professionals and policy makers have launched initiatives to encourage the use of single embryo ...

2010-10-01

Drug companies have not only sponsored the science of a new condition known as female sexual dysfunction, they have helped to construct it, in order to build global markets for new drugs, reveals an article in this week's BMJ. Researching his new book 'Sex, Lies and Pharmaceuticals' Ray Moynihan, journalist and lecturer at the University of Newcastle in Australia, discovered that drug industry employees have worked with paid key opinion leaders to help develop the disease entity; they have run surveys to portray it as widespread; and they helped design diagnostic tools ...


Press-News.org - Free Press Release Distribution service.