Kredyty mieszkaniowe
Sprawdź aktualny ranking najlepszych kredytów mieszkaniowych w Polsce - atrakcyjne kredytowanie nieruchomości.
2015-09-16
Juries in criminal cases typically decide if someone is guilty, then a judge determines a suitable level of punishment. New research confirms that these two separate assessments of guilt and punishment - though related -- are calculated in different parts of the brain. In fact, researchers found that they can disrupt and change one decision without affecting the other. New work by researchers at Vanderbilt University and Harvard University confirms that a specific area of the brain, the dorsolateral prefrontal cortex, is crucial to punishment decisions. Researchers predicted ...
2015-09-16
Humans are unique among social creatures in their willingness to bear personal costs to punish those who have harmed others. A study published September 16 in Neuron reveals new insights into our unparalleled sense of justice, specifically, the precise role of the dorsolateral prefrontal cortex (DLPFC)--one of the most recently evolved regions in the human brain. The findings reveal that DLPFC integrates information about a suspect's blameworthiness for wrongful acts and the resulting harm to others, enabling us to decide on the appropriate level of punishment. "Despite ...
2015-09-16
It's a question most attorneys wish they could answer: How and why do judges and juries arrive at their decisions? The answer, Joshua Buckholtz said, may lie in the way our brains are wired. A new study co-authored by Buckholtz, an Assistant Professor of Psychology, René Marois, professor and chair of psychology at Vanderbilt and colleagues, explains how a brain region called the dorsolateral prefrontal cortex (or DLPFC) coordinates third party punishment decisions of the type made by judges and juries. The study is described in a September 16 paper in Neuron. ...
2015-09-16
Chapman University has published research on what people find "desirable" and "essential" in a long-term partner based on two of the largest national studies of mate preferences ever conducted. This research supports the long-held belief that people with desirable traits have a stronger "bargaining hand" and can be more selective when choosing romantic partners, but it also challenges other commonly held mating beliefs. The studies examined how heterosexual mate preferences differed according to a person's gender, age, personal income, education and appearance satisfaction. "We ...
2015-09-16
Today, Nicotine & Tobacco Research publishes a special issue on e-cigarettes which includes twelve original investigations, one brief report, and three letters. Topics covered include e-cigarette market trends in U.S. retail, use of e-cigarettes among young people, chemical composition of e-cigarettes, and more. As Jennifer B. Unger, Ph.D., writes in the editorial that accompanies this special issue: "In this current era of scientific uncertainty, it is not surprising that the general public is confused, uninformed, or misinformed about e-cigarettes. Most U.S. adults ...
2015-09-16
Philadelphia, PA, September 16, 2015 - First-trimester ultrasound scanning to pinpoint placental vascular disorders may be used to identify women at risk of developing serious obstetric complications. A new study in The American Journal of Pathology finds that patients with the highest degree of uterine artery blood flow resistance have an almost five-fold increased chance of developing preeclampsia, fetal growth restriction, or stillbirth than other pregnant women. Increased cell death and reduced insulin-like growth factor-2 (IGF2) expression were found to be possible ...
2015-09-16
KNOXVILLE -- North Americans might be seeing new species of birds in certain areas of the continent in the near future. According to research conducted by a psychology professor at the University of Tennessee, Knoxville, and his co-authors, Eurasian birds are beginning to develop a presence on our continent, which could end up having a negative effect on native species. Vladimir Dinets, research assistant professor of psychology, recently published a paper in the Journal of Field Ornithology examining the threats of global warming and its effects on wild animals. The ...
2015-09-16
DURHAM, N.C. -- Criminals are far more likely to acquire guns from family and acquaintances than by theft, according to new studies by researchers at Duke University and the University of Chicago. "There are a number of myths about how criminals get their guns, such as most of them are stolen or come from dirty dealers. We didn't find that to be the case," said Philip J. Cook, a professor of public policy, economics and sociology at Duke's Sanford School of Public Policy. One study asked inmates of the Cook County Jail in Chicago how they obtained guns, while a second ...
2015-09-16
More than a decade ago, California established marine protected areas (MPAs) in state waters around the northern Channel Islands off the coast of Santa Barbara. Several years later, the National Oceanic and Atmospheric Administration (NOAA) extended these MPAs into the federal waters of the Channel Islands National Marine Sanctuary. To evaluate whether the MPAs are meeting their ecological goals, marine scientists from the Partnership for Interdisciplinary Studies of Coastal Oceans (PISCO) have been monitoring these rocky reef and kelp forest communities. Three UC Santa ...
2015-09-16
ATLANTA -September 16, 2015- While cancer is the second leading cause of death overall in the United States, it remains the leading cause of death among U.S. Hispanics. The finding comes from "Cancer Statistics for Hispanics/Latinos," a comprehensive report produced every three years by the American Cancer Society and published in CA: A Cancer Journal for Clinicians. Hispanics/Latinos represent the largest racial/ethnic minority group in the United States, accounting for 17.4% of the total U.S. population in 2014. In 2015, 125,900 new cancer cases and 37,800 cancer deaths ...
2015-09-16
DARIEN, IL - A new study of twins suggests that insomnia in adults is partially explained by genetic factors, and this heritability is higher in females than in males. Results show that the genetic influences on insomnia symptoms in adults were substantial and largely stable over time while differing significantly by sex. In the longitudinal model, the estimated heritability of insomnia was 59 percent for females and 38 percent for males. "This study indicates that genes may play a larger role in the development of insomnia symptoms for women than for men, providing ...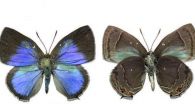 2015-09-16
Female butterflies generally choose among male suitors, but in the tropics with hundreds of close relatives living in close proximity, how can they decide which males are the right ones? After all, if she mates with a male of another species, she is unlikely to have surviving offspring. One solution is that males of some species have scent producing organs on their wings, so if a male has the right smell, the female will presumably be receptive to his advances. Strangely, males of some species lack these scent producing organs, which would seem to be a huge disadvantage. ...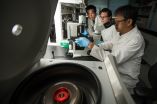 2015-09-16
EAST LANSING, Mich. - Researchers at Michigan State University were part of a team to discover a new natural defense against HIV infection. The team's discovery, featured in the current issue of the Journal of Biological Chemistry, focuses on ERManI, a protein that prevents the HIV virus from replicating. "In earlier studies, we knew that we could interfere with the spread of HIV-1, but we couldn't identify the mechanism that was stopping the process," said Yong-Hui Zheng, MSU associate professor of microbiology and molecular genetics and co-author of the study. "We ...
2015-09-16
NEW YORK - September 16, 2015 - EcoHealth Alliance, an environmental health nonprofit organization that focuses on local conservation and global health issues, announced the creation of the first centralized repository to collect data on the biological diversity in Bolivia. EcoHealth Alliance Senior Scientist, Carlos Zambrana-Torrelio, in collaboration with Miguel Fernandez from the German Centre for Integrative Biodiversity Research in coordination with more than 40 Bolivian scientists worked together to create the unique repository. The value of a biological repository ...
2015-09-16
LAWRENCE -- A new study based on longitudinal data confirms a college degree provides an advantage in lifetimes earnings, but a related decision once students make it to college could prove to be even more crucial. The study that includes a University of Kansas researcher found large lifetime earnings gaps depending on a student's field of study. For examples, men who major in science, technology, engineering and mathematics, or STEM fields, and earning a bachelor's degree achieved roughly $700,000 to $800,000 higher 40-year lifetime earnings from ages 20 to 59 than social ...
2015-09-16
The incidence of the most common strain of Methicillin-resistant Staphylococcus aureus (MRSA) infections has decreased in hospital-onset cases, but has failed to decline in the broader community, according to new research published online today in Infection Control & Hospital Epidemiology, the journal of the Society for Healthcare Epidemiology of America. The USA 300 strain of MRSA, has become prevalent in both communities and healthcare institutions. "In looking at risk factors for hospital or community-onset USA 300, current or former drug use was a strong predictor ...
2015-09-16
Amsterdam, September 16, 2015 - Targeted cancer treatments, toxicity sensors and living factories: synthetic biology has the potential to revolutionize science and medicine. But before the technology is ready for real-world applications, more attention needs to be paid to its safety and stability, say experts in a review article published in Current Opinion in Chemical Biology. Synthetic biology involves engineering microbes like bacteria to program them to behave in certain ways. For example, bacteria can be engineered to glow when they detect certain molecules, and ...
2015-09-16
Washington -- A new analysis by the Synthetic Biology Project at the Wilson Center finds the Defense Department and its Defense Advanced Research Projects Agency (DARPA) funds much of the U.S. government's research in synthetic biology, with less than 1 percent of total federal funding going to risk research. The report, U.S. Trends in Synthetic Biology Research, finds that between 2008 and 2014, the United States invested approximately $820 million dollars in synthetic biology research. In that time period, the Defense Department became a key funder of synthetic biology ...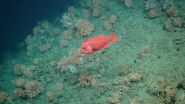 2015-09-16
The first true three-dimensional picture of submarine canyon habitats has been produced using a unique combination of marine robotics and ship-based measurements. The information captured in this new set of maps ranges in scale from the 200km canyon down to the size of an individual cold-water coral polyp, and will be used to inform the management of the only English Marine Conservation Zone in deep water. This 'nested map' is the result of a recent scientific expedition to the Whittard Canyon in the Bay of Biscay, led by the National Oceanography Centre (NOC). It works ...
2015-09-16
ROCHESTER, Minn. - Mayo Clinic researchers have identified a protein marker whose frequency may predict patient response to PD-1 blockade immunotherapy for melanoma. An abstract of their findings was presented today at the American Association for Cancer Research International Cancer Immunotherapy Conference in New York City. "The discovery of biomarkers of sensitivity are vital not only for informing clinical decisions, but also to help identify which patients with melanoma, and possibly other malignancies, who are most likely to benefit from PD-1 blockade," says Roxana ...
2015-09-16
The oil and gas extraction method called hydraulic fracturing remains controversial for multiple reasons, one of which is its water use. But, as scientists report in ACS' journal Environmental Science & Technology Letters, water requirements for the process are potentially lower than those for some other energy-related extraction methods. Since oil and gas companies ramped up hydraulic fracturing, or fracking, to unlock oil and gas from shale and tight oil formations, reports of earthquakes and contaminated water near wells proliferated. Some environmental experts have ...
2015-09-16
Detecting breast cancer in women with dense mammary tissues could become more reliable with a new mammogram procedure that researchers have now tested in pre-clinical studies of mice. In their report in the journal ACS Nano, they describe injecting gold nanoparticles in mammary tissue to enhance the imaging of early signs of breast cancer. Mammography remains the clinical gold standard of screening tests for detecting breast cancer. However, a recognized limitation of this X-ray procedure is that dense breast tissue shows up as white masses and fibers on an image, ...
2015-09-16
Citizen science is taking off and could make a difference at regional and national regulatory levels. But not everyone thinks that's a good idea. The cover story of Chemical & Engineering News (C&EN), the weekly newsmagazine of the American Chemical Society, delves into the progress of the budding movement, as well as the pushback. Steven K. Gibb, senior editor at C&EN, reports that in some states, regulators actively encourage and support local residents' participation in environmental monitoring. For example, Maryland's Department of the Environment and Department ...
2015-09-16
Fossils tell amazing stories and inspire them, too -- just think of this summer's "Jurassic World" blockbuster. But because some of the processes that preserve fossils are not well understood, there's still more information that they could reveal. Now scientists report in ACS' journal Analytical Chemistry a new way to probe fossils to find out how these ancient remains formed in greater detail than before. When most organisms die, they biodegrade and leave little behind. But if they get trapped in sediments that harbor few bacteria and loads of dissolved minerals, they ...
2015-09-16
Coughing. A sore throat. Maybe a pain in your chest as you take a deep breath. These are all common symptoms for many city-living Australians when smog levels are high. And while it is well understood that smog can cause such problems, new research has for the first time given us a glimpse as to what might be happening at the molecular level. The University of Melbourne's Professor Richard O'Hair, from the School of Chemistry's Bio21 Institute, in collaboration with Professor Stephen Blanksby (from the Queensland University of Technology and formerly the University ...