2010-11-03
mediaBirdy.com, the free social media utility website that allows users to upload pictures, videos, and updates to social media sites from one location, announces their new $100 Gift Card Giveaway. mediaBirdy was recently launched to give users a way to simultaneously update Facebook and Twitter from their phone, email or through the http://www.mediaBirdy.com website. Anyone who joins the free social media utility site can post not just their latest updates, but their videos and photos, instantly and easily, from one location. "We call it the 'post once, connect ...
2010-11-03
Bruce Clarke, president and CEO of CAI, Inc. (http://www.capital.org), a human resource management firm that helps organizations maximize employee engagement while minimizing employer liability, has announced the company's November schedule of training seminars. All will be held at CAI's Raleigh location at 2900 Highwoods Blvd. - "Forklift Operator: Train the Trainer" is a one-day course based on OSHA's Revised Standard for Powered Industrial Truck Operator Training. This course is designed to review the formal, or classroom section, of the required forklift training. ...
2010-11-03
4 Walls has been honored as one of the Best Places to Work in The Philadelphia Business Journal's 7th annual Best Places to Work contest. There are five categories that companies can fall into—Small, Medium, Large, Extra-Large, and Headquartered-Elsewhere—and this year, 4 Walls had the honor of being ranked #6 in the small company category. The Best Places to Work contest ranks the top employers in the Delaware Valley according to surveys completed by employees at nominated companies. Employees were asked to fill out an online questionnaire with dozens of questions ...
2010-11-03
When it comes to branding, Glasgow may be miles better, but Ayrshire & Arran will soon be leading the way with a vibrant new brand. Over 100 local business people gathered at the Ayrshire Connections Exhibition at Ayr Racecourse last week to be part of the launch of the brand new Ayrshire & Arran brand. The Launch of the Brand represents the culmination of a partnership approach to developing a unique Brand for the region. The involvement and commitment of the three local authorities, Scottish Enterprise, Visit Scotland and Ayrshire Chamber of Commerce has been an ...
2010-11-03
The Cove of Lake Geneva would like to announce that they are running a 'Facebook Fan Contest' offering one lucky person their chance to win a gift certificate for the resort. Those who enter the contest will have their chance to win a $500 gift certificate to The Cove which can be redeemed at any time throughout the year. But, the only way that people can win this contest is by 'Liking' The Cove of Lake Geneva on Facebook at http://www.Facebook.com/TheCoveOfLakeGeneva and entering to win. The Resort would like to continue to increase its exposure on social media ...
2010-11-03
Neighborhood Nurse is bringing trustworthy healthcare advice and guidance to every person in every community, and doing it one neighborhood at time. Launching today in Metro Atlanta and surrounding areas, Neighborhood Nurse is the first organization in the United States building a national network of registered nurses and professional healthcare advocates accessible directly to the public at large. The company's primary focus is to help consumers manage healthcare issues on a variety of levels, both clinical and non-clinical, and will continue to expand its offerings ...
2010-11-03
A new London based property search agency focused on helping expatriates of all nationalities to build a buy to let London property portfolio has launched today. Expatfindaproperty.com offers clients the full range of property search services from the development of an initial shortlist through to sourcing expatriate mortgages and conveyancing solicitors. With over 15 years experience in the rental sector, the Expatfindaproperty.com management team can advise clients on all aspects of the rental process, including sourcing and project managing builders and arranging ...
2010-11-03
SwitchHits.com, which carries the world's largest selection of high quality decorative switch plates, has added two new configurations to their popular hot forged brass switch plate line. Their new additions, available at http://www.switchhits.com/switchplates-4st-light-switch-plates-covers-g.html are the "1 toggle/2 duplex outlet combination" and the "1 toggle/1 blank combination". These new configurations are made of hot forged brass and available in several finishes and styles, including Antique Brass, Mottle Copper, Antique Pewter, Satin Nickel, black and white enamel, ...
2010-11-03
No matter what you believe up to reading this press release, the likelihood is you're probably not aware you are a born champion. Limiting beliefs have taken a toll on one person after another during these challenging economic times; however you were born to live free. John Di Lemme, founder of Di Lemme Development Group (DDG), Incorporated, international motivational speaker, strategic business coach and author of seven books, and Nancy Matthews will be inspiring and motivating attendees on November 4, 2010, as they host a Special Night of Inspiration and Motivation. A ...
2010-11-03
The structured two-year programme will recruit up to 25 apprentices across the remainder of 2010 and into 2011, with the majority of the recruits working within Plumb Center and Parts Center. Other Wolseley UK businesses will be implementing a similar programme over the coming months. All apprentices enrolled in the programme will complete a Level Two Apprenticeship in Customer Service in year one, and a Level Three Advanced Apprenticeship in Customer Service in year two. To ensure that all the participants are maximising their potential, they will each receive regular ...
2010-11-03
100,000 managers use 360-degree feedback First ever survey finds there is no single best practice More than 100,000 employees receive 360-degree feedback, according to the first survey of major employers. Survey responses from private-sector companies employing 2.3 million people are released by ETS as the 360-degree feedback review. While management development has been the traditional focus of 360-degree feedback, today nearly four in ten (38%) companies now target non-management employees, specialists and talented individuals who may not be in management positions. 360-degree ...
2010-11-03
Interview with: Marc Moret, Founder, Lobnek Wealth Management The traditional business model of private wealth management is rapidly becoming obsolete, according to Marc Moret, Founder of Lobnek Wealth Management. Wealth managers need to adapt to a new paradigm based on independence, full transparency, and cost efficiency. There has to be a complete alignment between the interests of the client and those of the wealth manager. A keynote speaker at the upcoming marcus evans Elite Summit 2010 in Switzerland, 15 - 17 November, Moret shares his thoughts on how the sector ...
2010-11-03
WINDOWS and doors company Safestyle UK is beefing up its internet presence to boost its online profile. The firm, which is renowned for its television adverts featuring a host of celebrities, is keen to play a bigger role in the cyberspace revolution. Safestyle UK has already successfully promoted its famous BOGOF (you buy one, you get one free) offer on its website and the response has so far been excellent. Now it is aiming to move its internet profile to the next level. The company has hired internet marketing specialists Optimise Media to improve its web presence. ...
2010-11-03
Cadac Organice BV, Microsoft Gold Certified Partner and developer of Cadac Organice (a SharePoint based engineering document management solution), introduces Cadac Organice Gatekeeper. Cadac Organice Gatekeeper helps companies to define and enforce design standards on AutoCAD drawings and saves substantial time and effort in the design and control process. Cadac Organice Gatekeeper helps companies by allowing them to define and automatically enforce design standards, thereby ensuring the quality of their CAD files. With Cadac Organice Gatekeeper you define design standards ...
2010-11-03
The Poet Local series explores poets' lives and writing styles. Kaufman is a poet and a playwright who has published a handful of poetry collections, Family of Strangers (Nightshade) and Still Life Burning (South Carolina Poetry Society), to name a few. Visitors will learn about Kaufman's approach to publishing her work, which has appeared in publications such as the Virginia Quarterly Review, Room of One's Own and Pembroke. Kaufman's latest book, The Next Moment (Jacar Press) was released in October 2010. "Debra's led writing workshops, written plays and received grants. ...
2010-11-03
The smart phone devices have outclassed its prime adversary landline phones. Today the peripheries of smart phones have moved beyond corporate houses to universities. Content development in mobile devices is a new concept that had been thought of for quite some time now and that makes a lot of sense — the adoption of these devices around the world is just tremendous. Mobile Learning is growing at an expeditious pace. Business professionals and universities are embracing mobile learning on all sorts of devices. As advancement of mobile applications continues to expand ...
2010-11-03
Prior to placing an order for a large consignment of this unique grade of flour Taiwanese partners tested the samples of the product. Tests ran successfully as the new partners were satisfied with the baking qualities of this protein and vitamin rich flour. Following the tests, they placed the order and the flour was shipped to Taiwan via Nakhodka port. The parties agreed to pack "Zhitnitsa" into three-layered 20 kg paper bags. "Just a couple of years ago it was difficult to hold negotiations with the Far East partners as they didn't see Russian companies as flour exporters. ...
2010-11-03
Asking prices for properties in the five Olympic boroughs have grown twice as fast as the non-Olympic London boroughs in the last year, new research from FindaProperty.com shows. Between September 2009 and September 2010, the average asking price for properties across the Olympic boroughs of Greenwich, Hackney, Newham, Tower Hamlets and Waltham Forest increased by 3.0% from GBP 276,751 to GBP 284,936. In the same period, prices in the non-Olympic boroughs grew by an average of just 1.6%, while across the whole of the UK asking prices fell by 0.3%. Newham, in East ...
2010-11-03
Internationally famous LEGO brick artist Nathan Sawaya returns to Agora Gallery in RED - an exhibition featuring his all new work, which presents for the first time the recent artistic shift which Sawaya's work has undergone. While the sculpture retains its surrealist charm, the artist says that his work is in many ways 'the antithesis of my previous work. It is an introspective show. By working with an unconventional medium, I work within the trappings of a self-imposed prison.' Nathan Sawaya works in his studio with over 1.5 million LEGO brick components. By this ...
2010-11-03
In this day and age of cutbacks and austerity, going to the hairdressers or beauty salon is becoming much less of a regular occurrence and much more of an occasional luxury. Consumers are increasingly looking for not only the best treatments, but also a luxurious environment that offers a welcoming break from their daily routines. To guarantee happy and returning clients, salons must ensure that they meet the growing demands of their customers and investing in their salon furniture to create that luxurious ambience is essential. This is something that Kevin Lewis of ...
2010-11-03
Parallel to the e-Arab Vision conference, Business and Electronic Commerce Council awarded Middle East and North Africa Internet Technologies (MenaITech) the Most Secure Software award. The Arab company, specialized in building and deploying software solutions and human resources applications, stated that their participation falls under the international and regional efforts invested in the information and software security, formulating a strategy that protects the users and the sectors privacy. MenaITech CEO, Dr. Bashar Hawamdeh said, "This conference consolidates the ...
2010-11-03
EMW, The Smart Convergence Experts and leading supplier of services and products in the telecommunication, ICT, Engineering and Project Management sector has won the CNME ICT Achievement award for Systems Integrator of the Year 2010. The trophy was presented to Mr. Serjios EL-Hage, CEO, EMW Middle East, at a function held during GITEX Technology Week. The award recognizes EMW's excellence in not only delivering projects on time and on budget, but also ensuring that the end-user organization gets the technology it needs not just for today but also tomorrow. Speaking ...
2010-11-03
Greenomics 2010, a conference jointly hosted by the UAE Ministry of Environment and Water (MoEW), leading technology innovator in consumer electronics, LG Electronics and the United Nations Industrial Development Organisation (UNIDO) is set to urge UAE business leaders to adopt more sustainable practices in their production of goods and services. Garnering insights and case histories from more than a dozen experts and industry leaders, the conference will focus on the concept of 'clean production' and how sustainability changes do not have to affect a company's bottom-line ...
2010-11-03
As thousands of women head to The Long Beach Convention Center for the Women's Conference 2010, Lime Green MonkeyÒ, a small eco-business sponsored by WE Invest, will be there with a full regalia of USA made organic cotton hankies. "We are starting the handkerchief revolution, encouraging people to use cloth hankies instead of disposable tissues. Organic cotton handkerchiefs are better for the environment, a great eco-fashion statement and better for your nose" said Kristin Anderson, owner of Lime Green Monkey. These are not your ordinary handkerchiefs. Each organic ...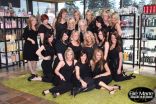 2010-11-03

Guests of Elle Marie Hair Studio have recognized their salon as one of the best in Evening Magazine's "Best of Western Washington" contest on KING 5 TV for the third straight year. Following a fifth place finish in the Hair Salon category in 2008, Elle Marie moved up to fourth in 2009 and, once again, retained that number four spot in 2010. With so many nominees in each category, contest organizers consider reaching the top five to be a major accomplishment in the beauty industry, indicative of great service and highly trained stylists, and therefore recognize all five. ...


Press-News.org - Free Press Release Distribution service.